From August 2021 to November 2022, the StriperHub team conducted six consumer evaluations along the central North Carolina coast and in the Raleigh-Durham-Chapel Hill "Triangle" region during professional conferences and public events. The opinions of one seafood businesses' retail customers were also profiled. Overall, StriperHub surveyed 321 individuals from 38 of the state's 100 counties to learn seafood consumers' perceptions of cultivated striped bass to learn the market potential of this commercial species.

We served our survey participants Mariner's Menu sautéed striped bass with garlic-basil butter and then asked them to numerically rate the flavor, texture, aroma and appearance of their striped bass according to a hedonic scale where 1 equaled "unacceptable" and 7 equaled "excellent." We also asked them to provide commentary on what they liked and disliked about striped bass and to indicate the whitefish species that were most similar to striped bass.
Example of Survey Card with Recipe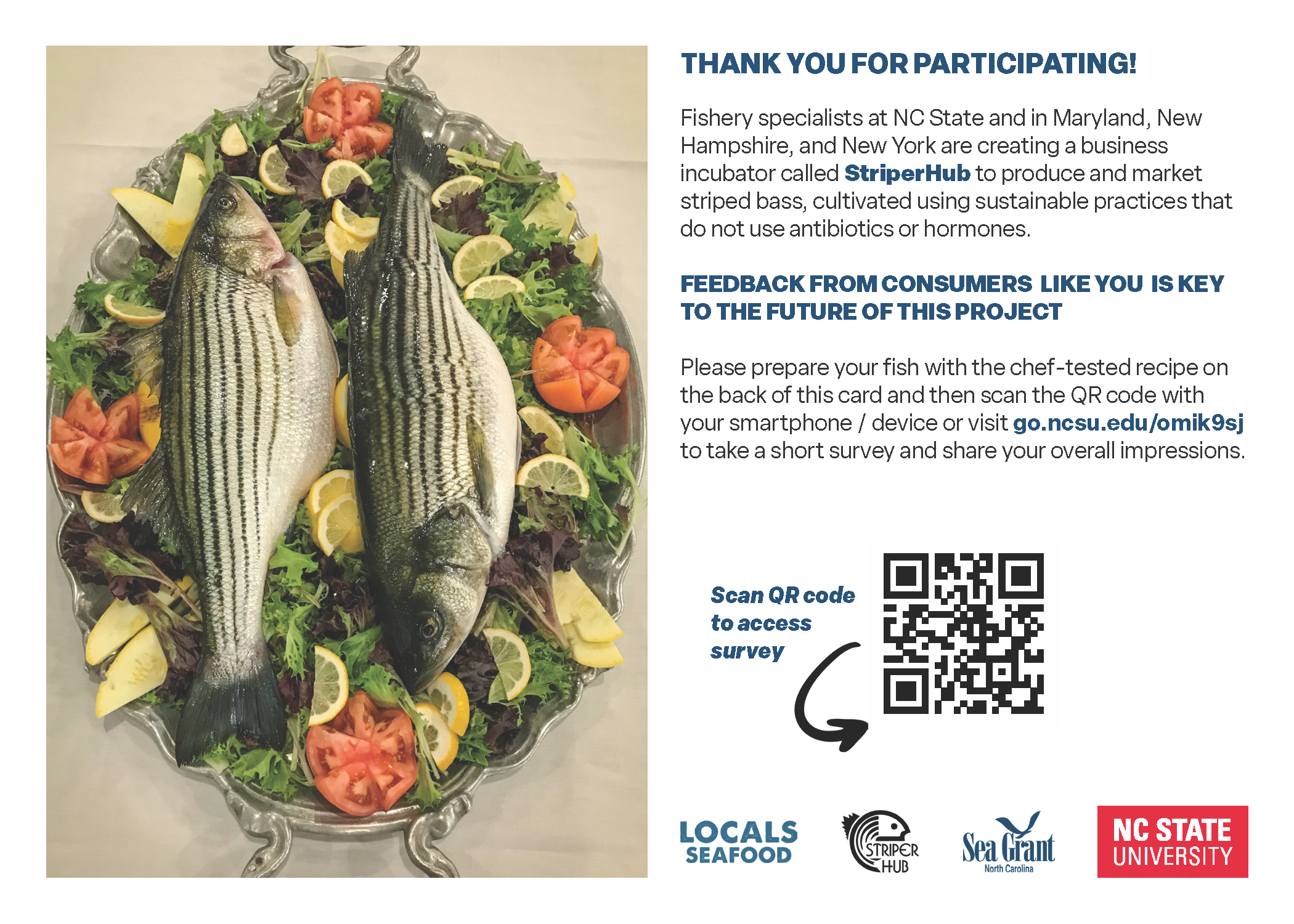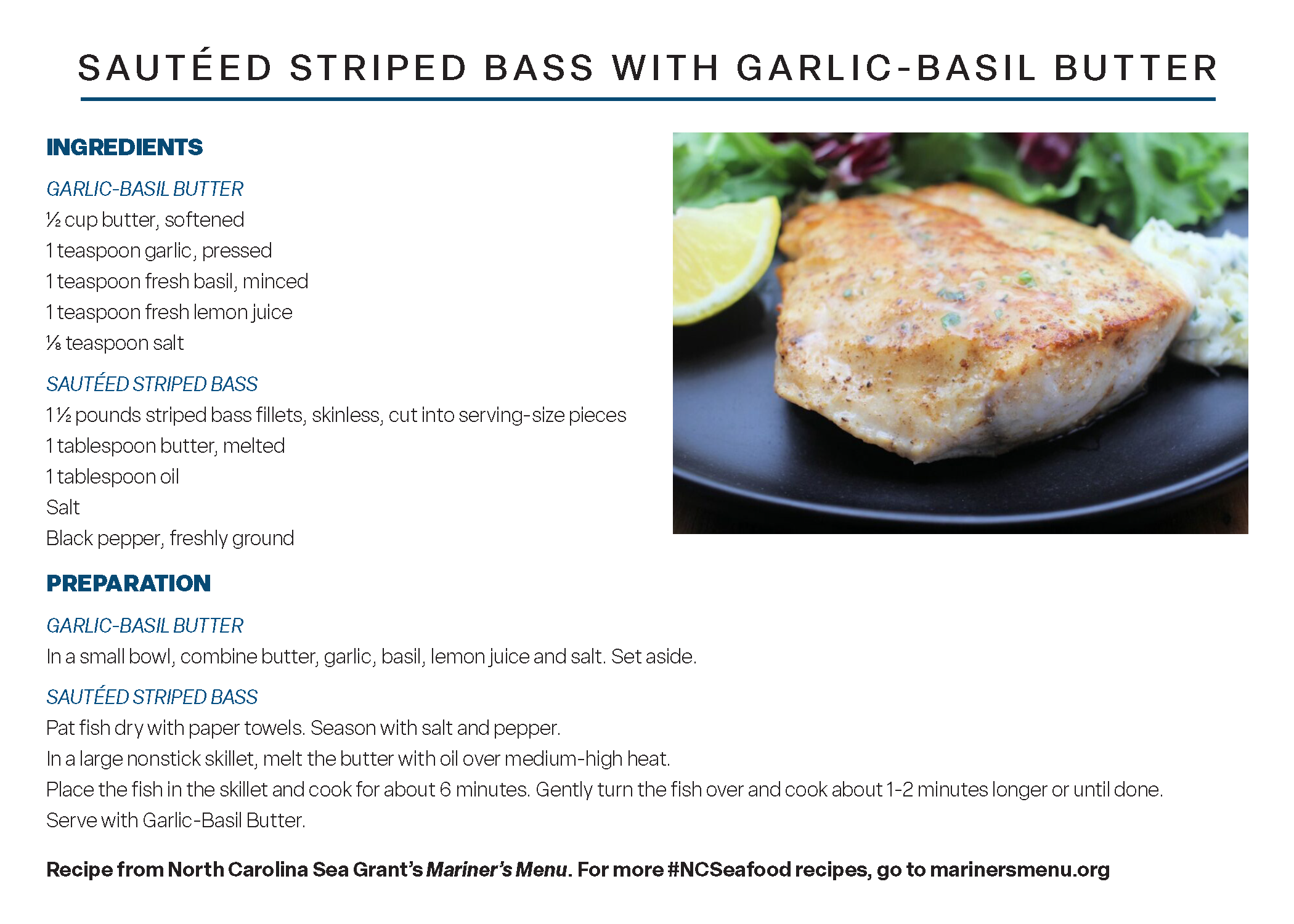 Among the participants who were willing to declare their gender, 166 were male and 193 were female. The ages of our participants ranged from 18 up to 65 and older with many being in the 25 to 64 age range. Most had Associates, Bachelors or Masters Degrees.

Participants rated the flavor, texture, aroma and appearance of striped bass as "Good" to "Excellent," with most of the numerical scores falling between "Very Good" and "Excellent." The sensory attributes the participants most appreciated about striped bass were its white appearance, mild flavor and firm texture. They did not care for the appearance, flavor and aroma of the dark meat, which was described as "too fishy" by the participants who commented on it.

The whitefish species the participants said striped bass was most similar to were cod, flounder, grouper, sea bass and snapper.
Sensory Evaluations: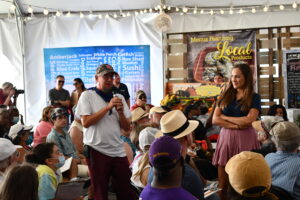 Agribusiness Networking Association
August 31, 2021: 39 respondents
North Carolina Seafood Festival
October 2, 2021: 46 respondents
October 3, 2021: 33 respondents
North Carolina Aquaculture Development Conference
March 11, 2022: 58 respondents
Locals Seafood
Fall 2022: 73 respondents
North Carolina Sea Grant Coastal Conference
November 8, 2022: 72 respondents

Total respondents: 321

Domiciles of survey participants by North Carolina county: Alamance, Beaufort, Bladen, Brunswick, Burke, Cabarrus, Carteret, Catawba, Chowan, Chatham, Columbus, Craven, Dare, Durham, Forsyth, Franklin, Greene, Guilford, Hoke, Johnston, Jones, Lee, Mecklenburg, Moore, New Hanover, Onslow, Orange, Pamlico, Pender, Perquimans, Pitt, Sampson, Surry, Union, Vance, Wake, Wayne, and Wilson. (38 / 100 counties)