The NC King Tides Project
King tides are the highest and lowest tidal events of the year. These regular and predictable events occur when the sun, Earth, and moon are in alignment and the moon is at its closest point to the Earth.
The North Carolina King Tides Project is part of an international initiative to document extreme high tide events using photos. These photos can help visualize how "normal" high tides might look in the future due to sea-level rise, suggesting how rising seas will impact local resources and community investments.
The images also contribute to a record of the present-day shoreline and can help track changes. The King Tides Project seeks photos both of tidal-related flooding and any flooding or high-water events.
— adapted by Lauren D. Pharr from information from the North Carolina King Tides Project
Request for Proposals for the CCRG Program
The Community Collaborative Research Grant Program is now open for proposals. This innovative program funds collaborative research that couples community knowledge and academic expertise in order to address priority coastal issues.
Proposals also should align with North Carolina Sea Grant and the North Carolina Water Resources Research Institute's vision for diversity, equity, inclusion, justice, and accessibility.
The deadline for proposals is February 4, 2022, at 5 p.m. Eastern.
North Carolina Sea Grant and the North Carolina Water Resources Research Institute support the Community Collaborative Research Grant Program in partnership with the William R. Kenan Jr. Institute for Engineering, Technology, and Science. To read about a recent CCRG project, see this issue's "Podcasting a Wide Net."
New Projects Support Seafood and Aquaculture Industries
North Carolina Sea Grant continues to help the seafood industry recover from the impacts of the COVID-19 pandemic through two new projects, one with a statewide focus and another with a national scope.
"We will develop and enhance direct-to-consumer marketing strategies to offset ongoing losses in the food-service sector, where a majority of seafood in 2020 was consumed before the pandemic," says North Carolina Sea Grant coastal economics specialist Jane Harrison, who will head the statewide project. Sea Grant colleagues Barry Nash, Eric Herbst, and Scott Baker also will play keyroles, as will partners from state agencies and organizations.
Overall, our project will provide marketing assistance, training, and network building for North Carolina commercial fishers and marine aquaculture producers who are conducting direct marketing through tourism," Harrison explains. "Building on the initial successes of the NC Oyster Trail and the Visit North Carolina Farms app, our team also will demonstrate ways to leverage tourism to increase public awareness and demand for North Carolina seafood."
Annie Baggett at the NC Department of Agriculture and Consumer Services will work with seafood producers to expand use of the Visit NC Farms app, which helps consumers find retailers and seasonal events celebrating local food.
In addition, Ann Savage of NC State University Tourism Extension will help to further develop the NC Oyster Trail, a program that educates the public about the culinary options and ecosystem benefits of sustainable shellfish farming.
The North Carolina Coastal Federation will host a workshop to strengthen and build relationships between Oyster Trail members and tourism organizations. The workshop will coincide with the NC Oyster Summit in 2023.
North Carolina Sea Grant is also partnering on a national project with Maryland Sea Grant, the National Sea Grant Office, NOAA's National Centers for Coastal Ocean Science (NCCOS), and others to support ecofriendly, successful, and equitable marine aquaculture.
North Carolina Sea Grant's Eric Herbst will work with NCCOS aquaculture experts in Beaufort on marine spatial planning, regional workshops that focus on site selections for new aquaculture operations, and more.
"North Carolina Sea Grant already has strong working relationships with NCCOS partners working on aquaculture topics, such as through the recent update for the NC Oyster Blueprint and other committees," Herbst says. — Katie Mosher
Visit North Carolina Farms app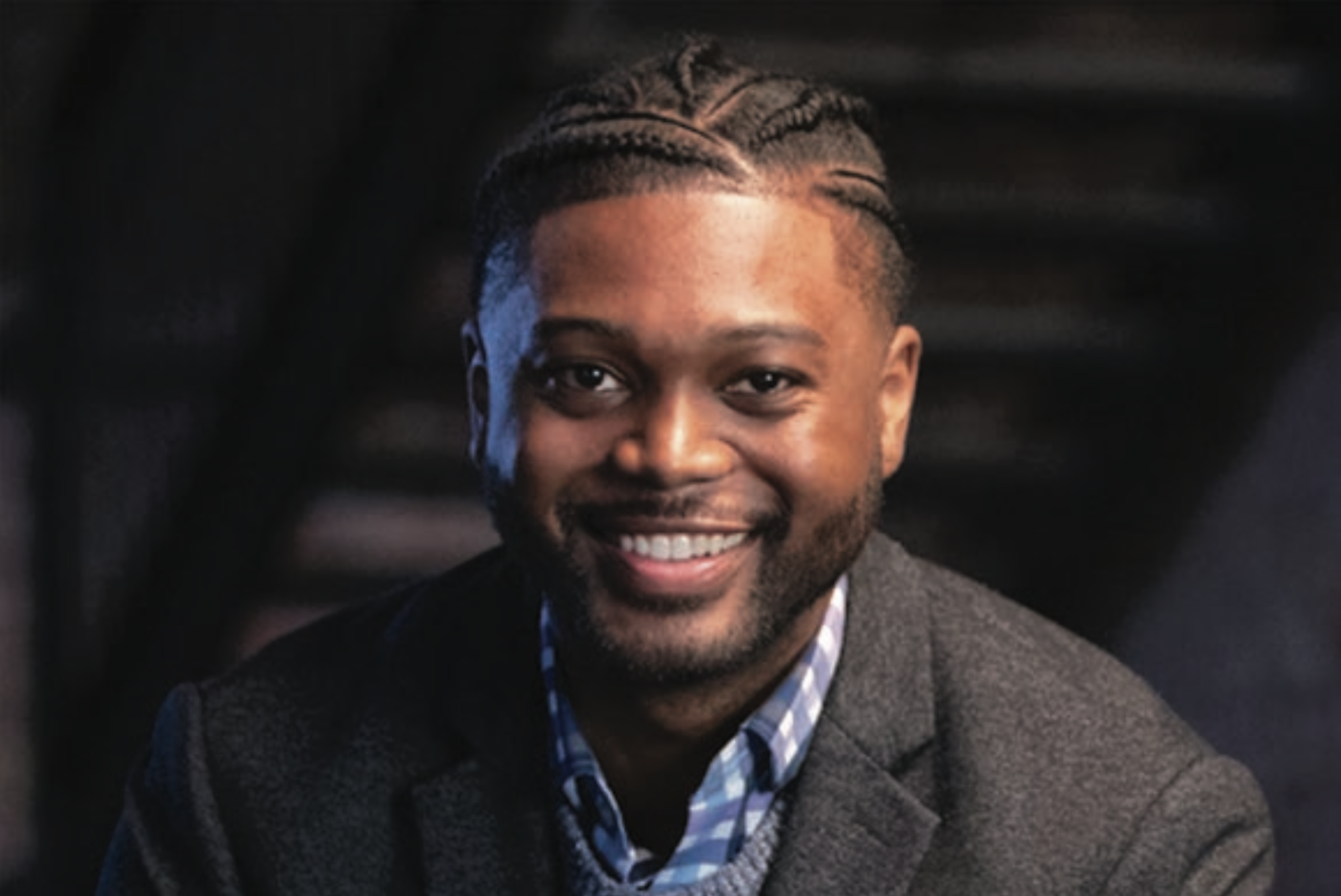 Sea Grant and Sister Programs Launch New Diversity Liaison Position
North Carolina Sea Grant, the North Carolina Water Resources Research Institute, and North Carolina Space Grant welcomed Tim Thomason aboard this fall as their inaugural DEIJA Liaison. Thomason (above) will support the three teams' joint commitment to diversity, equity, inclusion, justice, and accessibility by helping to diversify the applicant pools for the programs' state and national funding opportunities.
"I'm excited to be named as the first DEIJA liaison to both continue and amplify the joint diversity and inclusion commitments," says Thomason, who also works for VF Corporation as the director of global inclusion, diversity, equity, and action. "There's an incredible opportunity to further engage and connect diverse communities to funding opportunities, and I'm honored to support these efforts."
Thomason, an MBA student at North Carolina A&T State University, also is executive director for Minority Game Changers, a nonprofit serving North Carolina by creating interactive and immersive STEM and professional development sessions for high school students from under-represented backgrounds.
"We recognize our programs' unique position and responsibility to strengthen the pipeline to college and to professional life for students of all backgrounds and abilities," says Christy Perrin, sustainable waters and communities coordinator for North Carolina Sea Grant and the Water Resources Research Institute, as well as a founding member of the programs' joint DEIJA Committee. "Tim's expertise will be critical in helping to fulfill this vision." — Dave Shaw
North Carolina Sea Grant's DEIJA Vision
Southport Maritime Museum Offers LGBTQIA+ Art Exhibit
Port cities have always been a melting pot, but not all of the diverse voices within them have had a platform. For several months earlier this year, the North Carolina Maritime Museum at Southport showcased an exhibit that was designed to change that.
"How Does the Water Speak to You?" included watercolor and acrylic paintings, as well as digital and found- object artworks. These pieces shared a common connection: art with a maritime connection that was created by members of the lesbian, gay, bisexual, transgender, queer/questioning, intersex, asexual/ aromantic/ally communities.
The Frank Harr Foundation, an LGBTQIA education and outreach organization based in Wilmington, helped identify artists in the community whose work had ties to the water.
Featured artists, their works, and media included: Alexander Brooks, Entangled, watercolor; Robin Douglass, Sailboats & Buoys, driftwood, cloth and cork; Achilles Hack, Patroclus and Achilles, digital; Campbell Idol, Hidden Identity, acrylic; and Hannah Marley, Small Treasure, glass and found objects.
The North Carolina Maritime Museum at Southport is open Tuesday through Saturday, 9 a.m. to 5 p.m. Admission is free.
— adapted by Lauren D. Pharr from a media release from NC Department of Natural and Cultural Resources
Fort Fisher Site Debuts Lumbee Exhibit
Earlier this year, the Fort Fisher State Historic Site launched "A Memory A People Could Not Forget: Lumbee Indians at Fort Fisher."
Guest curated by the Museum of the Southeastern American Indian and the Lumbee Tribe of North Carolina, the Civil War exhibit was designed to portray the vital role played by Lumbee Indians — alongside free and enslaved African Americans — in building the fort's massive earthworks. Faced with the reality of conscription and brutal working conditions, the Lumbee endured seemingly endless demands on their labor in building what came to be known as "The Gibraltar of the South."
When Fort Fisher fell to Federal troops after an attack on January 15, 1865, its loss contributed significantly to the Confederacy's defeat. Today, the Fort Fisher State Historic Site, located in Kure Beach, is part of the Division of State Historic Sites in the N.C. Department of Natural and Cultural Resources.
— adapted by Lauren D. Pharr from a press release from N.C. Department of Natural and Cultural Resources
Fort Fisher State Historic Site
SAVE THE DATE!
The 2022 North Carolina Aquaculture Conference Returns March 10th through the 12th.
The 34th annual NC Aquaculture Conference is planning to meet in person in New Bern in early March of 2022. Anyone with an interest in fish or shellfish farming is welcome to attend.
The conference brings together current and prospective fish farmers, scientists, the general public, and people in regulatory agencies to share information and ideas about aquaculture in our state.
All attendees also can enjoy an ongoing trade show, as well as the conference's NC Cultured Seafood Festival, an "all you can eat" celebration.
Visit their website and Facebook To stay up-to-date
National Fellowship Deadlines Approach
Application periods for several national NOAA and Sea Grant fellowships are now open. Sea Grant and NOAA recruit, retain, and prepare a diverse workforce, and proactively engage and serve the diverse populations of coastal communities. The opportunities below include fellowships in management, policy, and research that affect coastal ecosystems and benefit people of all backgrounds.
Applications for the Coastal Management Fellowship and the Digital Coast Fellowship are due January 21, 2022.
These fellowships provide on-the-job opportunities in coastal resource management and policy, while also offering key expertise to state coastal zone management agencies and other key NOAA partners," says John Fear, North Carolina Sea Grant deputy director. Current and recent graduate students with degrees from colleges and universities in the state are eligible to apply. More information is available here.
North Carolina Sea Grant also is accepting applications from doctoral students in the state for the National Marine Fisheries – National Sea Grant Fellowship in Population and Ecosystem Dynamics and Marine Resource Economics. The deadline is January 27, 2022.
"This joint fellowship not only provides hands-on research experience, but also it fosters a direct connection with NOAA," says Fear.
Each fellow must work with a mentor from NOAA Fisheries. For more information, visit go.ncsu.edu/fisheries-fellow.
Last, the application period for the John A. Knauss Marine Policy Fellowships is open until February 18, 2022.
NOAA offers the prestigious fellowships through the National Sea Grant Office. The program places graduate students in Washington, D.C. to work on federal policies and processes that affect ocean, coastal, and Great Lakes issues.
"We are honored to nominate strong North Carolina students for this opportunity every year," says Fear. "Current and past fellows cite this vital professional experience in marine policy as a key influence on career paths in science, policy, communications, and other fields."
Learn more about Knauss Fellowships.
For more information about applying in North Carolina for any of the above fellowships, contact John Fear at jmfear@ncsu.edu. — Katie Mosher & Dave Shaw
Coastal Landscaping Design Templates Win Award
A set of 10 design templates from the Coastal Landscapes Initiative has won an APEX Award for Excellence. These templates feature plants native to coastal North Carolina, explaining which species work well together and how to arrange them.
"We wanted to help people who are interested in sustainable coastal land-scaping but don't know where to begin," says project manager Gloria Putnam, North Carolina Sea Grant's coastal resources and communities specialist.
Each design provides ideal site conditions, a planting blueprint, seasonal bloom or berry color, an illustration of the plantings at maturity, and maintenance tips. Designs are adaptable for different lot configurations and also include alternative plant choices.
Native plant experts and design professionals helped create the templates, which the Coastal Landscapes Initiative published to encourage nature-enhancing landscaping. Key partners included the North Carolina Aquariums at Pine Knoll Shores and Roanoke Island and Coastal Roots Garden Design.
The full guide is available here.
Printed packets are also available by emailing Gloria Putnam at gfpuntam@ncsu.edu, by inquiring at your closest NC Cooperative Extension office, or contacting a North Carolina Sea Grant office in Wanchese, Wilmington, or Morehead City. — Julie Leibach