Winter 2022: The All-Digital Issue

videos, photos, audio, more

Why isn't this issue in my mailbox?
And other Frequently Asked Questions about the Winter 2022 All-Digital Issue.
Letter from the Executive Director
with the video What Is Sea Grant?
Where we were five years ago, this year's return of the NC Coastal Conference, and where we're headed.
An Angler-Inspired Approach:
How Descending Devices Can Save North Carolina's Reef Fish
with footage of a red snapper as it descends
and with how-to videos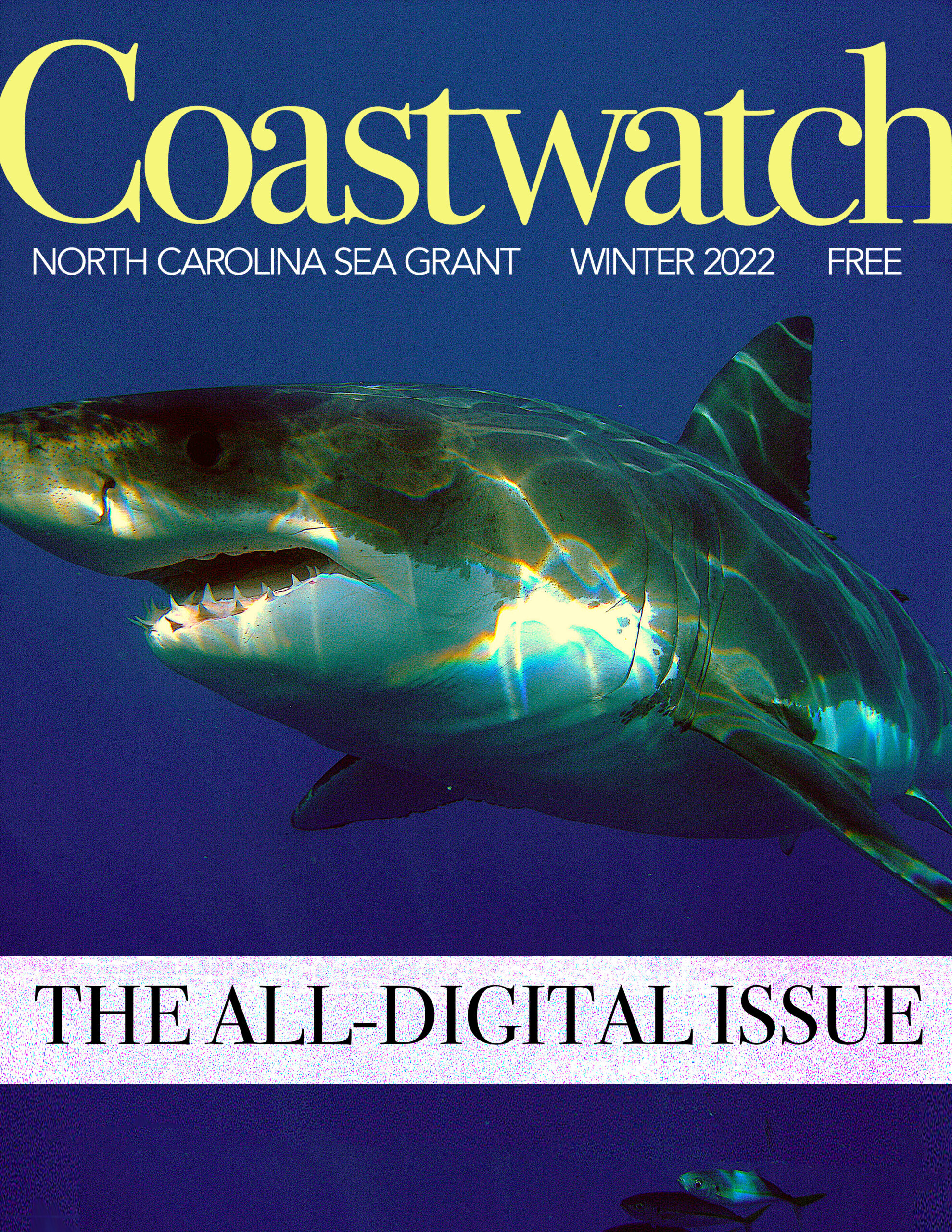 To reduce barotrauma and increase rates of survival during catch and release, descending devices are now required on all vessels targeting snapper and grouper in the Southeast.
Our Coast, Our Future:
The 2022 North Carolina Coastal Conference
videos, photos, resources
They came to Raleigh from across North Carolina, discussed urgent and emerging issues affecting our coast, forged new ties, and literally devoured new research for lunch — and you can watch it here.
From Water to Air
with "Algal Blooms Pose Possible Respiratory Threat," a video from UNC Research
When cyanobacteria goes airborne, community scientists are helping to investigate.
Between a River and a Swamp:
All That Water Has to Go Somewhere
Project BRIDGE's documentary shows how a transdisciplinary team built resilience in Robeson County through a North Carolina Sea Grant-supported initiative.
Shark Update
Are Young Great Whites Swimming Coastal North Carolina Waters? 
with the video "A Symphony of Sharks," NOAA's ode to sharks and shark research
On October 28 off Jennette's Pier, Gumbo Jones caught a "mystery shark."
Sustainable Fisheries
Keeping Sharks Off Gear
with Why So Many Sharks Die and What We Can Do About It, a video from Sci NC
and with Sara Mirabilio's presentation at the 2022 North Carolina Coastal Conference (video)
"To an approaching shark, even a weak electrical impulse can be disorientating or physically uncomfortable."
Mariner's Menu
Our Top Five Holiday Recipes . . .
. . . and a sneak peek at "Cooking North Carolina Seafood," a new video series
In 2023, North Carolina Sea Grant will launch new videos featuring Chef Ricky Moore, the James Beard Foundation's Best Chef in the Southeast.
Coastal Landscapes
North Carolina Native Plant Picks
The Coastal Landscapes Initiative has released 12 award-winning videos about environmentally beneficial, cost efficient, and beautiful plants for home gardeners and professional landscapers.

Hook, Line & Science
What Lionfish Eat, Big Seafood Lovers, and Incredible Shrinking Dead Fish
Three videos from the award-winning series answer three questions with the latest science for anglers.
Naturalist's Notebook
Saving the Red-Cockaded Woodpecker
with "This Bird Still Needs Our Help," a video from Sci NC
Currently, 63 out of 124 known red-cockaded woodpecker populations are vulnerable to hurricanes, with 56 of those populations having low or very low ability to withstand environmental or demographic changes.

Sea Science
The Sound of the Drum
Can the calls of courting fish predict the numbers of new offspring? Listen to silver perch, spotted sea trout, and red drum.
Coastwatch Classroom
Keeping Water Renewable (an interactive lesson with videos)
Often, instructional materials incorrectly teach the water cycle, but this robust, blended lesson provides a thorough introduction to the water cycle and how to keep a resilient balance between human activities and natural systems.
Coastal Currents
News briefs and funding opportunities.