Applications Open for the 2024 Knauss Marine Policy Fellowships
For Immediate Release
Contact: John Fear, jmfear@ncsu.edu
North Carolina Sea Grant is accepting applications from North Carolina graduate students for the 2024 Dean John A. Knauss Marine Policy Fellowship. The deadline is February 16, 2023 at 5 p.m. Eastern Time.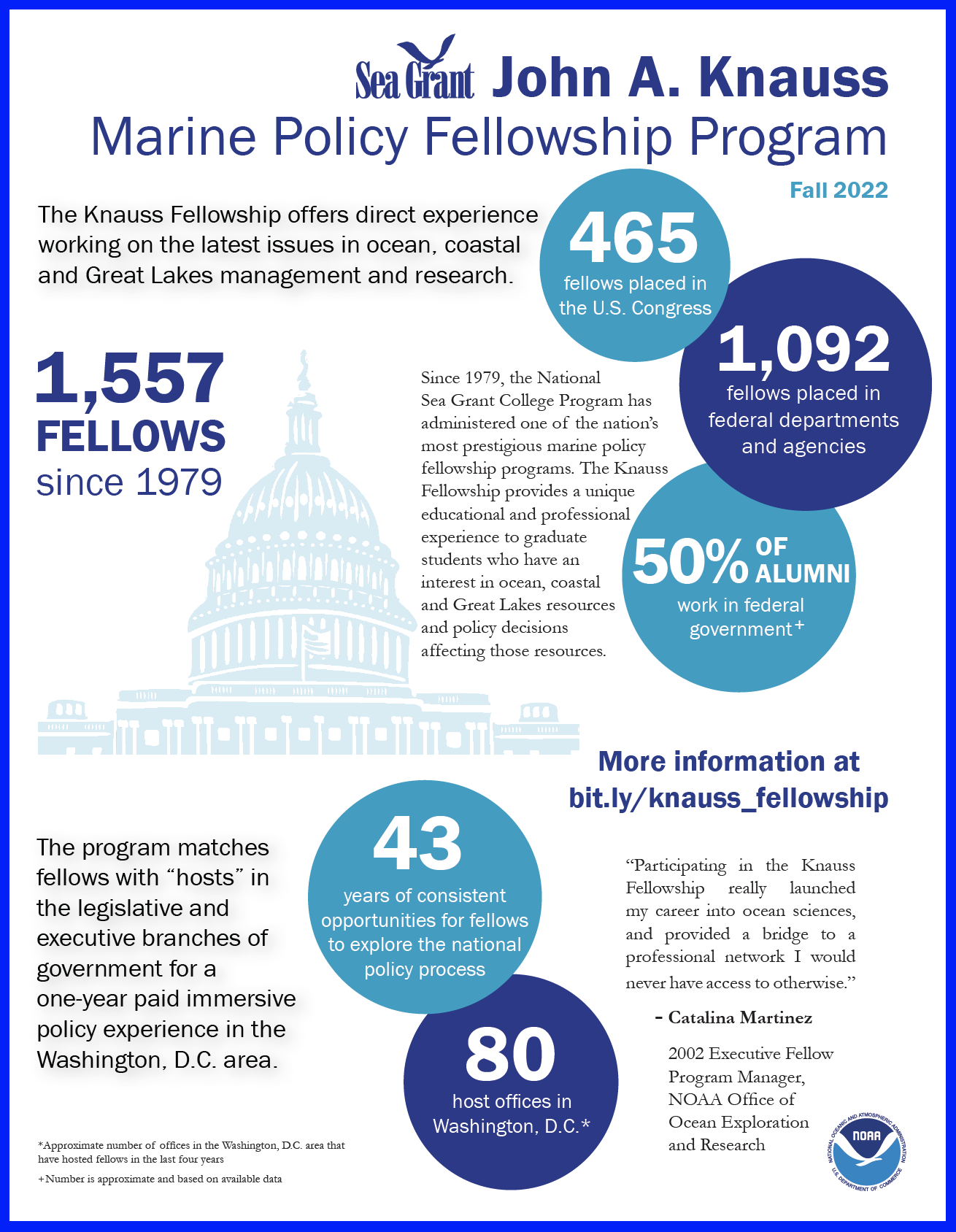 NOAA offers the prestigious fellowship through the National Sea Grant Office in honor of John A. Knauss, who was a Sea Grant founder, NOAA administrator, and dean of the University of Rhode Island's Graduate School of Oceanography. The program places graduate students in Washington, D.C. to work on federal policies and processes that affect ocean, coastal, and Great Lakes issues.
"We are seeking a wide pool of applicants, with experience in a range of disciplines and interdisciplinary studies," says Susan White, executive director of North Carolina Sea Grant. "Through the Sea Grant Knauss Marine Policy Fellowship, we strive to provide an educational and employment opportunity for current and recent graduate students of all backgrounds, abilities, and perspectives."
The 2024 Knauss fellows will serve from February 1, 2024 to February 28, 2025. Fellows may work in host offices in the U.S. Senate and House, as well as in departments in the executive branch, including many NOAA programs.
More than 90 graduate students from North Carolina have served as Knauss fellows throughout the program's 40-year history, including three current fellows serving in 2022 and six finalists for 2023.
"We are honored to nominate strong North Carolina students for this opportunity every year," says John Fear, North Carolina Sea Grant's deputy director. "Current and past fellows cite this vital professional experience in marine policy as a key influence on their career paths in science, policy, communications, and other fields."
Eligible applicants include any student, regardless of citizenship, who: 1) is enrolled in a graduate program at a North Carolina-based school at any point between the onset of the 2022 Fall Term and February 16, 2023; 2) will receive that graduate degree through an accredited institution of higher education in the United States or U.S. Territories; and 3) has an interest in ocean, coastal, and Great Lakes resources and in the national policy decisions affecting those resources.
North Carolina Sea Grant will invite the state's top candidates for interviews in March 2023 and then nominate a small handful for consideration at the national level.
All students from North Carolina must submit their applications through the eSeaGrant online portal, which includes detailed instructions and requirements: go.ncsu.edu/ncesg.
"The application elements have been updated this year," says Fear. "Please read the requirements and start your application early."
More
Additional information also is available at the National Sea Grant Knauss Fellowship website, which includes biographies of current fellows, a video, and a guide for preparing a strong application: seagrant.noaa.gov/Knauss.
Contact John Fear at jmfear@ncsu.edu.