Rip Currents
Research and beachgoer safety resources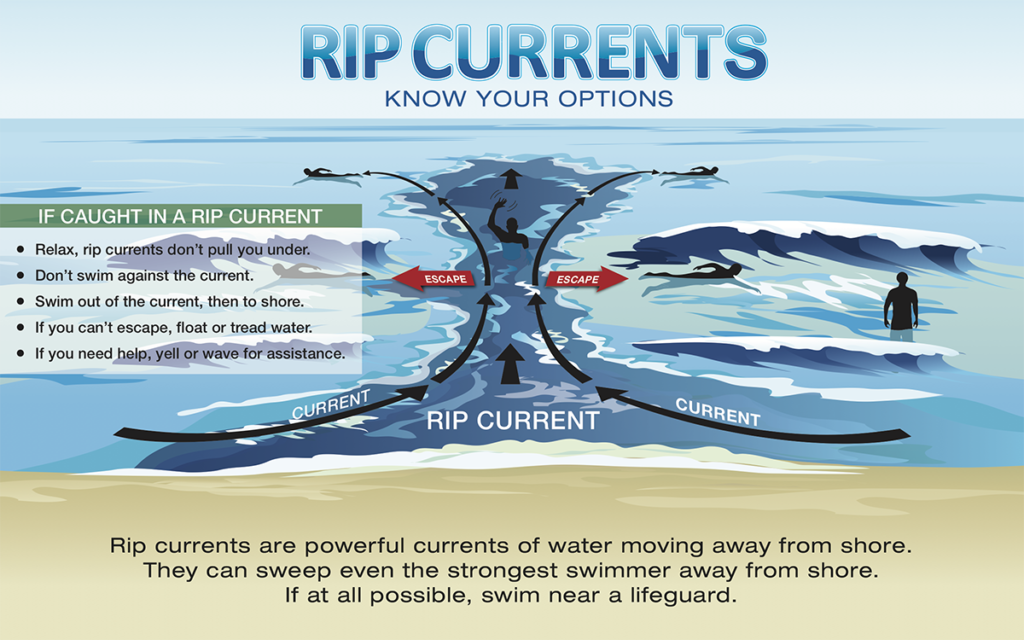 Rip currents are the leading surf hazard for all beachgoers. The U.S. Lifesaving Association reports 80 percent of all surf rescues are related to rip currents. On many beaches, rip currents are present every day and speeds are too slow to be a danger to most swimmers. However, when wave conditions, shape of the offshore beach and tide elevation are just right, rip currents can reach dangerous speeds.
Rip Current Products
Metal Sign
This metal sign provides tips on identifying, avoiding and escaping dangerous rip currents. Similar in size to 'No Parking' signs (12″ x18″), it has precut holes and identifies the National Weather Service's online rip current forecasting program. Available in both English and Spanish.
Brochure
This brochure includes illustrations and tips for identifying and escaping these natural hazards. NC Sea Grant has delivered brochures to beach communities.
Magnet
A 5″x7″ magnet contains tips on identifying, avoiding and escaping dangerous rip currents.
To order these products, contact Katie Mosher.
National and State Partners
To learn more about the ongoing national Rip Currents: Know Your Options campaign and rip current safety, visit ripcurrents.noaa.gov and weather.gov/safety/ripcurrent-toolkit.
National Weather Service offices in North Carolina are key partners in working with state agencies and beach communities' ocean rescue teams. For example, NWS Wilmington, NC has an outreach partnership with NC Department Health and Human Services to reach audiences of people who are deaf and hard-of hearing.
Partners for North Carolina Sea Grant research include:
NC Sea Grant Rip Current Research
News Releases
May 28, 2021: Rip Currents: Know Your Options
North Carolina's beach communities, offices of the National Weather Service, North Carolina Sea Grant, state and federal parks, and other organizations joined forces again to help keep visitors safe.
May 13, 2020: Rip Current Safety Focus in 2020
Many aspects of visits to the North Carolina coast may be different in 2020, but one constant will remain: Partners up and down the shore are focused on rip current safety.
July 3, 2019: Rip Currents: Know Your Options
In this holiday week, many people will visit North Carolina's coast for days of surf and sand. Beach-goers always should keep rip current safety in mind. Check out these tips.
Coastwatch Magazine
Coastwatch Currents
North Carolina Sea Grant's rip current research has been highlighted in our blog, Coastwatch Currents.
Rip Currents in the News