Coastal Communities
NC Sea Grant-Led Coastal Landscapes Initiative Transforms DREAMS Center's Wilmington Location with Eco-Landscaping Project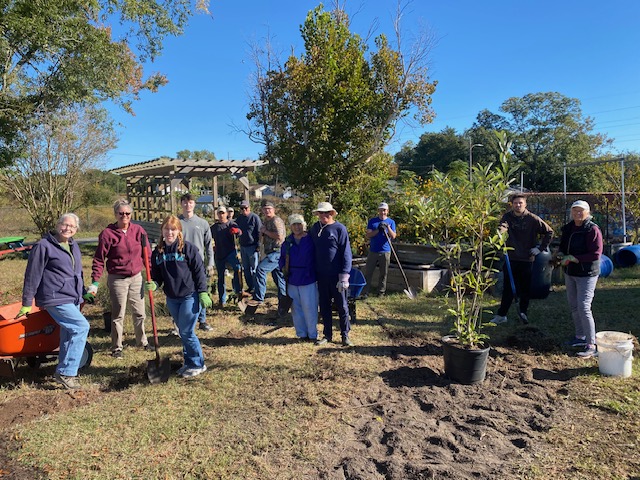 Partners with the NC Sea Grant-led Coastal Landscapes Initiative (CLI) came together in October to complete an eco-landscaping project at the DREAMS Center for Art Education's inner-city location on Fanning Street, in Wilmington, N.C. DREAMS is a non-profit organization that provides confidence-building art programming throughout the Wilmington area for more than 600 youth and teens annually.
"Our Secret Garden project will provide a beautiful and practical example of native plants in a usable landscape," noted Jescy Schott, Garden Manager and Teaching Artist for DREAMS. "It will show our community low water alternatives to turf, attract native pollinators and provide another, much needed space for our outdoor classes to use for creative projects (art inspiration, design projects, plant care, etc). Eventually the space will be shaded, making it even more useful in hotter months."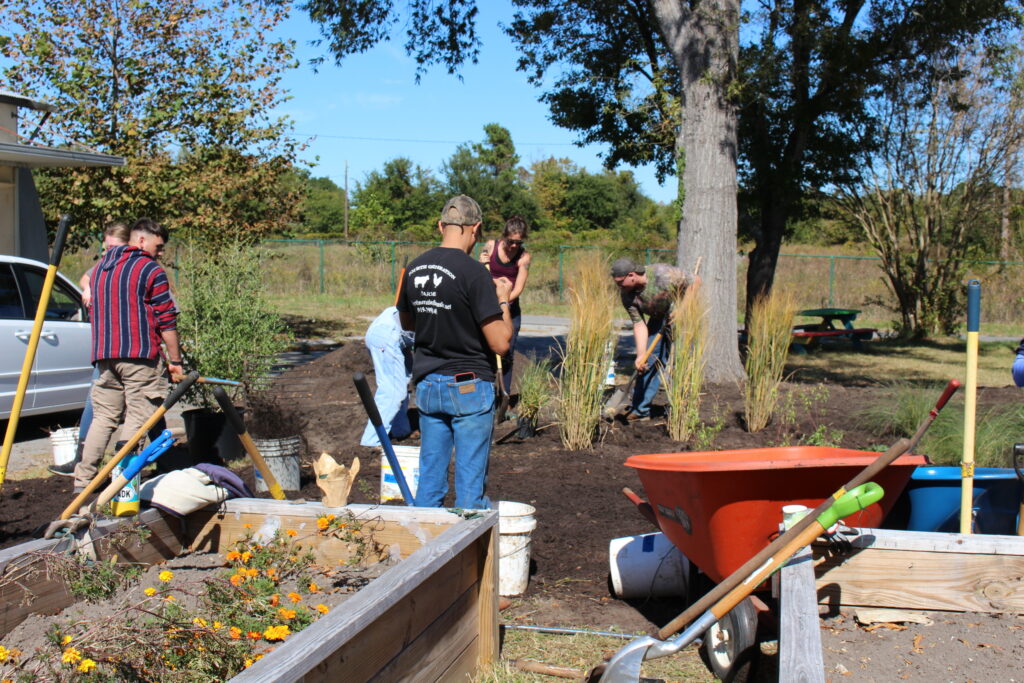 This project truly took a village to complete. The City of Wilmington's Public Services Department removed concrete sidewalk remnants to make space for the garden. The NC Coastal Federation (NCCF) recruited the much-needed volunteers, including local gardeners, U.S. Marine Corps personnel, and UNC-Wilmington students, who worked enthusiastically to remove turf, dig holes, and spread compost and mulch donated by Wilmington Compost Company and Friends of the New Hanover County Arboretum. These volunteers, along with the collaboration of NC Sea Grant, NC Cooperative Extension, and DREAMS, completed the installation.
N.C. Cooperative Extension designed the garden with a native plant palette containing oak leaf hydrangea, coral honeysuckle, sweetbay magnolia, inkberry, yaupon holly, muhly grass, switchgrass, black-eyed Susan, and spotted bee balm. Amy Mead, an Area Natural Resources Agent who designed the garden, noted that, "the garden will not only provide a demonstration of how to landscape using low maintenance native plants, but will help protect water quality in Burnt Mill Creek watershed by preventing runoff and conserving water resources." 
For this project, NC Sea Grant sourced plants from local and inland nurseries and CLI partners. These included: Five Oaks, Blooms and Branches, and Tinga in the Wilmington area; Taylor's in Raleigh; and the N.C. Aquarium at Pine Knoll Shores.
NC Sea Grant previously partnered with DREAMS and City of Wilmington, using a U.S. EPA grant to install a permeable parking lot and bioretention area to reduce stormwater runoff pollution at this city-owned site. The CLI has also enlisted volunteers to remove invasive plants from the bioretention area.