Shellebrate NC Oyster Month in October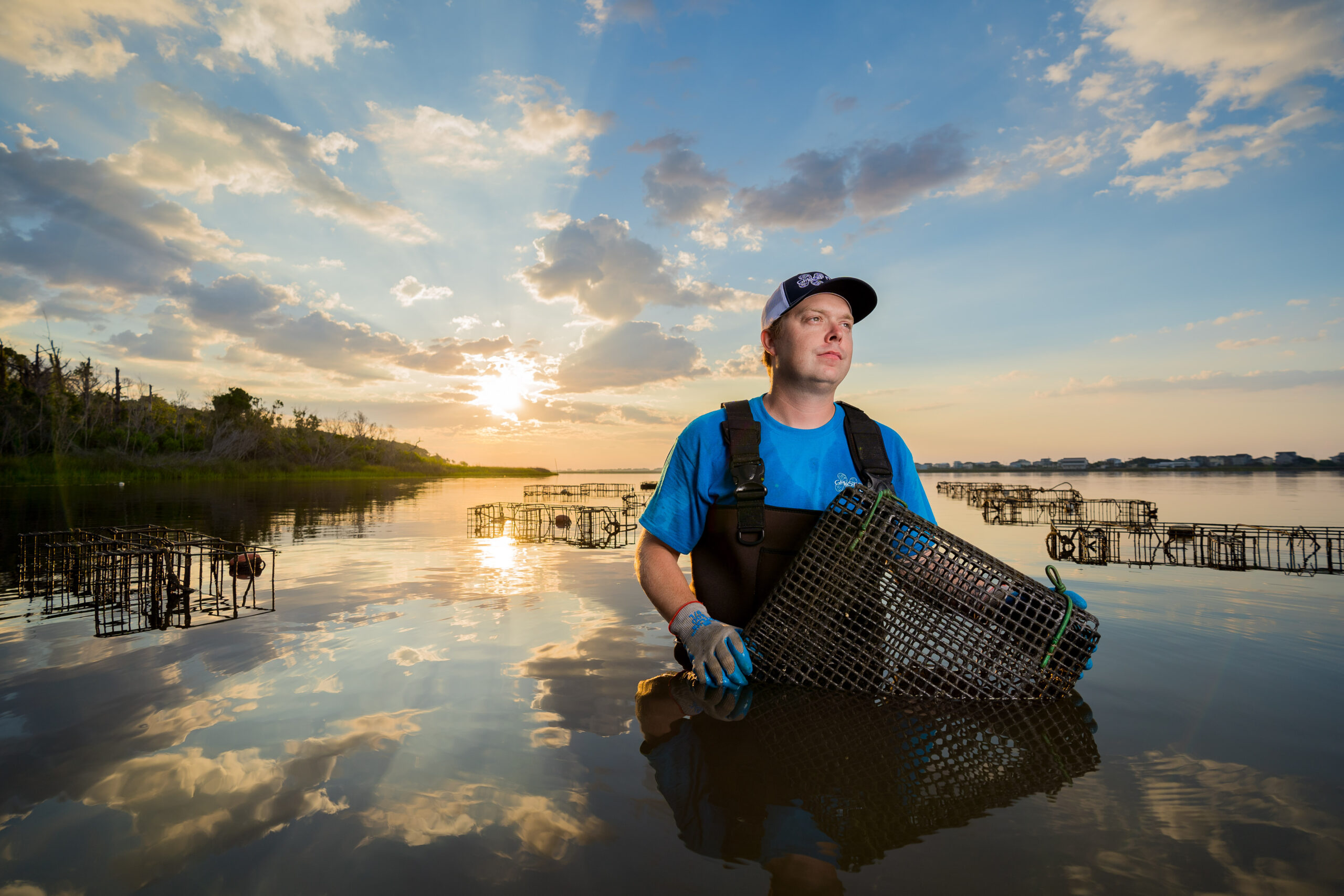 FOR IMMEDIATE RELEASE
Contact: Jane Harrison, jane_harrison@ncsu.edu, 919-513-0122
"Shellebrate" North Carolina Oyster Month all October long with a wide range of activities spanning our state. Connect with local oyster growers and harvesters, enjoy seafood restaurants, markets, and festivals, and support coastal conservation and education organizations as we kick off the start of the wild-caught oyster season.
In recognition of the significant role oysters play in our coastal ecosystem, October has been declared North Carolina Oyster Month by Governor Roy Cooper. "North Carolina has a valuable and productive coastal ecosystem and many champions who work together to protect it and the keystone species that benefit the state's marine and coastal environments with food provision, water filtering capacity, and fish habitat," Gov. Cooper's proclamation states.
In 2022, North Carolina's wild and farmed shellfish industry contributed $31.66 million to the state's economy. Of this, the farmed oyster industry provided almost half, $14.69 million in economic impact and 283 jobs.
"Oysters benefit our state in myriad ways," says Jane Harrison, North Carolina Sea Grant's coastal economist. "North Carolina Oyster Month events will highlight the ecology, culture, economy, and history related to this vital resource."
North Carolina Sea Grant, the North Carolina Coastal Federation, and the North Carolina Department of Natural and Cultural Resources are organizing the NC Oyster Month festivities in partnership with the NC Oyster Trail. Events are listed on the NC Oyster Trail and NCDNCR websites.
"From N.C. oyster happy hours to volunteer events on the coast to maintain living shorelines, there is something for everyone during NC Oyster Month," says Harrison.
North Carolina Oyster Month events will include cultivated and wild-caught oysters alike from new and returning participating organizations and businesses.
"Oysterberfest is always one of our favorite events of the year," says Jud Watkins, owner, brewer, and head oyster shucker at Wrightsville Beach Brewery. He adds, "Not only is it one of our most popular events, bringing out hundreds of people, it's also a great opportunity for the community to learn about hyper-local North Carolina oysters."
Partners are eager to share critical information. "Delicious oysters depend on clean water and stormwater runoff is the number one cause of shellfish harvesting closures," says Bonnie Mitchell, the coastal education coordinator for NC Coastal Federation.
"The NC Coastal Federation is partnering up with NC Sea Grant and DREAMS Center of Arts Education to create a secret garden in Wilmington with native plants, shrubs, and vines that will help capture, absorb, and filter stormwater runoff. We want to protect our precious estuaries and the oysters that live within," Mitchell adds.
For more information on North Carolina Oyster Month 2023 and the NC Oyster Trail visit ncoystertrail.org and read oyster-related stories from around the state in North Carolina Sea Grant's Coastwatch magazine.
NC Oyster Month Events
Oct. 1 – Oct. 31 | Ocracoke Oyster Company, Ocracoke
During NC Oyster Month, why not get a little crabby too? Enjoy fresh, local oysters topped with a signature Cream of Crab Soup and parmesan cheese then baked to perfection. This is Ocracoke Island's best-kept secret!
From Seed-to-Table
Oct. 1 – Oct. 31 | Coastal Eco Adventures, Surf City
Come aboard Coastal Eco Adventures Oyster Farm boat tour from Surf City to visit an oyster seed nursery and learn about the oyster aquaculture process. Passengers will visit oyster farms in Stump Sound to learn about shellfish mariculture techniques and the regulatory, maintenance, and harvesting methods. Passengers will have an opportunity to sample oysters from area farms.
Tours focus on the cultural history and importance of oyster cultivation in NC, including water quality, habitat restoration, living shorelines, estuarine resources, and coastal resilience benefits. Tours are available by reservation and weather-dependent (coastalecoadventures@gmail.com).
Everyday, 4 – 6 pm; All Day Tuesdays| St. Roch Fine Oysters + Bar, Raleigh
Chef Sunny Gerhart at St. Roch in downtown Raleigh offers an N.C. Oyster Happy Hour daily from 4-6 pm and ALL DAY on Tuesdays. Oysters are just $1.50/oyster. All oysters are served with lemon and fried saltines, yum!
Every Sunday in October | Coquina Fishbar, Wilmington
Every Sunday all-day Coquina Fishbar has $1.50 local oysters: raw or steamed. Oysters are served with Coquina's house-made mignonettes, cocktails, and crackers. Don't miss their chef-created specials and amazing local oyster shooter.
Every Monday in October | Shuckin' Shack Oyster Bar, Surf City
Shuckin' Shack has a fabulous Monday oyster deal: only $0.75 for steamed oysters. They also offer $1 raw, local oysters Monday through Thursday from 2–4 pm to celebrate NC Oyster Month.
Every Monday | 5 – 6 pm | Seabird, Wilmington
Seabird's Chef Dean Neff offers N.C. Oyster Happy Hour every Monday from 5-6 pm in the bar – for just $1/oyster! He has numerous N.C. oyster dishes on the menu, including the outstanding seafood tower.
Most Tuesdays in October | 11 am – 8 pm | Saltbox Seafood Joint, Durham
Chef Ricky Moore will prepare his signature "Grits & Oyster Gravy" most Tuesdays in October (Oct. 3, 10, 17, 31). Experience ordinary, simple food as extraordinary. Chef Moore draws inspiration from classic American fish camps and waterside seafood shacks. We're talking seasonal seafood, freshly cooked and good (shell)fish, that's the hook.
Every Wednesday in October | 11 am – 8 pm | Locals Seafood, Durham
Locals Seafood is proud to work with fisherfolk up and down the N.C. coast. Every Wednesday in October, oysters on the half-shell are $2 each at their restaurant inside the Durham Food Hall (530 Foster St). Get your taste of the coastline even in the landlocked Triangle!
Thursdays; Oct. 5, 12, 19, 26 | 1 – 3 pm | NC Coastal Federation, Wanchese
The NC Coastal Federation is curating a farm-to-fork experience in the Outer Banks. Join them in Wanchese each Thursday in October for a kayaking tour around their demonstration oyster lease and beautiful surrounding estuarine habitat. After that, it's off to Blue Water Grill & Raw Bar to sample delicious N.C. oysters.
Every Weekend in October | N. SEA Oyster Company, Hampstead
Garden and Gun-recognized "Dukes of Topsail Sound" oysters are available to eat at the Oyster Barn near the water in Surf City, or for purchase to go. Visit any weekend in October to enjoy oysters, small plates, beers, and wines. A large outdoor seating area is perfect for the whole family or a casual date.
Oct. 3 | 5 – 7 pm | NC Coastal Federation at Wrightsville Beach Brewery, Wilmington
Draw: This event is for everyone! Whether you're a coloring aficionado, an aspiring artist, a nature enthusiast, or simply someone who loves oysters, visit Wrightsville Beach Brewery for a warm and welcoming evening of creativity and camaraderie. NC Coastal Federation will have you covered with all the necessary drawing supplies.
Drink (responsibly): During the month of October, Wrightsville Beach Brewery generously contributes 11% of the proceeds from their featured beer of the month, the Oysterman Stout, to support the NC Coastal Federation's efforts to protect and restore the coastal environment.
Oct. 4 | 6 – 9 pm | Shuckin' Shack Oyster Bar, Salisbury
Oct. 5 | 6 – 9 pm | Shuckin' Shack, Wilmington
Oct. 6 | 6 – 9 pm | Shuckin' Shack, Leland
Oct. 7 | 11 am – 9 pm | Shuckin' Shack, Carolina Beach
Shuckin' Shack's Fresh & Raw Tour concert series featuring NBC's The Voice Finalist Barrett Baber & Nashville Singer/Songwriter Taylor Goyette, and benefits The Leukemia & Lymphoma Society (LLS). The Shuckin' Shack locations serve fresh local oysters from up and down the N.C coast. The concerts are free to attend with a donation to LLS. One guest will win FREE seafood for a year!
Oct. 6 | 12 – 11 pm | 412 D Evans Street, Morehead City
Oct. 7 | 10 am – 11 pm
Oct. 8 | 11 am – 5 pm
The NC Seafood Festival on the Morehead City waterfront is free to the public. It promises to be a fun-filled event with food, entertainment, kids' activities, vendors, and artisans – while honoring the commercial fishing fleet that brings seafood to our tables, markets, and restaurants.
The three-day festival will host more than 200 artisan and commercial vendors; fresh, locally caught N.C. seafood; and other locally produced food and beverage products. There will be children's games and rides, cooking demonstrations and tastings, and two musical stages. Don't miss the amateur shucking contest on Saturday and the professional oyster shootout on Sunday.
Oct. 6 | 6 – 8 pm | Carteret Community College, Morehead City
This cocktail reception will serve oysters on the half-shell from N.C. oyster farmers, and include a low country boil from Outer Banks Boil Company, as well as heavy hors d'oeuvres from local chefs. World-champion oyster shucker and sommelier Patrick McMurray will provide remarks on our state's oyster community. Funds raised will go to Carteret Community College to help grow their aquaculture education program and the shellfish farming industry.
Oct. 7 | 10 am – 2:30 pm | UNCW Center for Marine Science, Wilmington
Tour the UNC Wilmington Shellfish Research Hatchery as part of the Center for Marine Science open house. This is a 12,000-square-foot, state-of-the-art facility for the propagation of the early life stages of oysters, clams, scallops – marine bivalves. Get a sneak peek of their research.
Oct. 7 | 12 – 4 pm | First Flight Rotary Club, Kill Devil Hills & Longboards Island Grill, Kitty Hawk
Enjoy local N.C. oysters and slow-smoked pork BBQ with all the fixings for First Flight Rotary's signature fundraiser. All proceeds benefit local charities and non-profits on the Outer Banks.
Oct. 7 | 5 – 9 pm | Surf City Surf Shop, Wrightsville Beach
Visit Surf City Surf Shop in Wrightsville Beach to kick off the fall with their first annual "Fall Squall" oyster roast. Oysters are brought to you by N. SEA. Oyster Company. Live music comes from DRISKILL! There will be a killer sale at Surf City Surf Shop, plenty of vendors, and refreshing beer from Flying Machine Brewing.
Oct. 7 | 8 – 10 am | Cape Fear River Watch, Wilmington
Pancakes at 8, oyster science seminar at 9! Join Cape Fear River Watch for a seminar "Cracking Open the History and Science of Oyster Shells" presented by Dr. Beth Darrow. Dr. Darrow works at the Bald Head Island Conservancy (BHIC) leading science and conservation programs. Her research specialty is estuarine and shellfish ecology.
Oct. 8 | 2 – 4 pm | Carolina Beach Oyster Company, Carolina Beach State Park
This educational event will explain the entire process of oyster farming from seed to shuck. Hear from Mandy Uticone about her woman-owned farm and learn about the full oyster life cycle.
Oct. 9 | 1:30 – 3:30 pm | NC Coastal Federation & Ghost Fleet Oyster Company, Holly Ridge
In celebration of NC Oyster Month and Indigenous People's Day, volunteers are invited to Morris Landing Clean Water Preserve for a special volunteer event featuring Ghost Fleet Oyster Company. Volunteers will monitor the living shoreline, remove marine debris from the area, and bag oyster shells for future living shoreline projects.
Oct. 12 | 12 – 2 pm | Bald Head Island Conservancy, Village Creek Access
Enjoy a guided kayak tour with a coastal ecosystem expert through Bald Head Creek to learn about the local oyster population and their essential role in maintaining the ecological balance. This beautiful area is the perfect place to learn about the oyster ecosystem!
Oct. 12 | 5:30 – 7:30 pm | Ghost Fleet Oyster Company & Salt Marsh Market, Surf City
Shellebrate N.C. oysters by slurping oysters, sipping wine, and chatting with an oyster farmer!
Oct. 14 | 8 am – 10 pm | Ocean Fest, Surf City
Ocean Fest is an award-winning environmental festival featuring live music, surfing, and an Eco Zone where festival goers can learn about the important work being done to protect our coastal environment. The NC Oyster Trail will have members and advocates on hand to talk about the importance of NC Oysters and answer questions about the Trail. N. SEA. Oyster Company will be serving their delicious raw oysters served with mignonette and BBQ oysters with bourbon butter.
Oct. 21 | 10 am – 6 pm | 6800 S. Croatan Hwy | Nags Head
The Outer Banks Seafood Festival provides the opportunity to learn more about our local fishing industry and heritage. Watch live demonstrations, meet fisher folk, and see the boats involved in bringing fresh seafood to your table. Celebrate our state's rich seafood heritage and discover its significance to coastal communities.
Oct. 21 | 12 – 6 pm | Wrightsville Beach Brewery, Wilmington
Oysterberfest is Wrightsville Beach Brewery's annual festival celebrated each year in October. Enjoy local wild harvested oysters from local farmers and a festival in the beer garden featuring live music, food & drinks!
Oct. 21 | 9 am – 6 pm | 11 East 2nd Street, Ocean Isle Beach
Oct. 22 | 10 am – 5 pm
Shellebrate everything oysters as Ocean Island Beach Town Center Park is transformed. Experience the NC Oyster Festival which offers a variety of foods, crafts, contests, and musical performances. Admission is $5 per adult and FREE for children 12 years and under.
Oct. 21 | 4 – 8 pm | Market and Moss, Chapel Hill
Brace yourself for an epic oyster roast patio party from Rocks + Acid and Market and Moss! An irresistible array of oysters in all their glory – steamed, Rockefeller, and fried – with Chef Gordon steaming on the patio as we go. But that's not all. Get your glasses ready because you'll have the chance to sip on four different sparkling wines, perfectly paired to enhance the flavors of those delectable oysters. But wait, there's more! Tea Cup Gin will be rocking live on the patio 4:30-7:30 pm, adding an extra layer of fun and excitement to the festivities.
Oct. 23 – 27 | 10 am – 5 pm | Empty Nest Studio and Gallery, Frisco
Take a gander at the delicate oyster jewelry produced at Empty Nest Studio and Gallery. During the last week of October, visit their open house to meet the artist, enjoy refreshments, and take a chance to win one of their handmade treasures at the Friday afternoon raffle.
Oct. 24 | 8 am – 12 pm | 901 Fanning Street, Wilmington, NC
Embrace the spirit of NC Oyster Month by joining the NC Coastal Federation, NC Sea Grant and DREAMS Center for the Arts in a meaningful initiative! You have the power to make a difference in safeguarding our treasured oyster populations. One impactful way is to combat stormwater runoff through nature-based solutions. Volunteer to help grow a garden of native plants to capture, absorb, and filter stormwater runoff and work towards a healthier coastal environment.
Oct. 27 | 5 – 8:30 pm | Coastal Studies Institute & NC Coastal Federation, Wanchese
Join Tide-to-Table for an educational evening and tasting event focused on N.C. oysters. This event will take place at the NC Coastal Federation Office in Wanchese and at the Coastal Studies Institute on their Outer Banks campus.
Guests will tour a demonstration oyster farm, learn about the state's oyster blueprint and speak with local oyster farmers. Sample a variety of locally sourced wild and farm-raised oysters provided by Cousins Oysters. Coastal Studies Institute scientists will share their research on oyster farms and guests will interact with a panel of industry experts about the future of oysters and oyster farming in North Carolina.
TBD | Sea Level NC & The Bulb, Charlotte
Enjoy the freshest N.C. oysters and local beer while giving back to your community! Proceeds from this event support The Bulb's mission of ending food insecurity and creating equitable access to fresh and nutritious foods for all people.
Media Photos
##