Science and Digital Communications
acgrant@ncsu.edu | 919-515-2456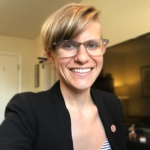 Annie serves as a science communicator for NC Sea Grant where she is focused on expanding the reach of funding opportunities and increasing engagement in and excitement about water-related research and issues. Originally from Virginia, she joins the team with a background in science outreach and program management, K-12 education, and equity and inclusion.
Grant relocated from Boston, MA where she served for four years as the program administrator for MIT's MITES Semester (formerly MOSTEC), an immersive online STEM enrichment and college preparation program for students from underrepresented backgrounds. While at MIT, Annie implemented new strategies for online engagement and community-building, designed and led staff trainings and webinars, and increased the diversity of applicants in the staff applicant pool.
Prior to her work at MIT, Annie taught middle school science in Tennessee and spearheaded environmental outreach initiatives and professional development sessions for teachers.
Annie received her undergraduate degree in gender studies with a minor in environmental science from the University of Virginia and holds a graduate certificate in geographic information systems, with a focus on hydrology, from East Tennessee State University.
In her free time she enjoys vegan cooking and spending time in nature with family and her dog, Douglas.