Critical Steps to Avoid Roof Damage from Tornadoes and Hurricanes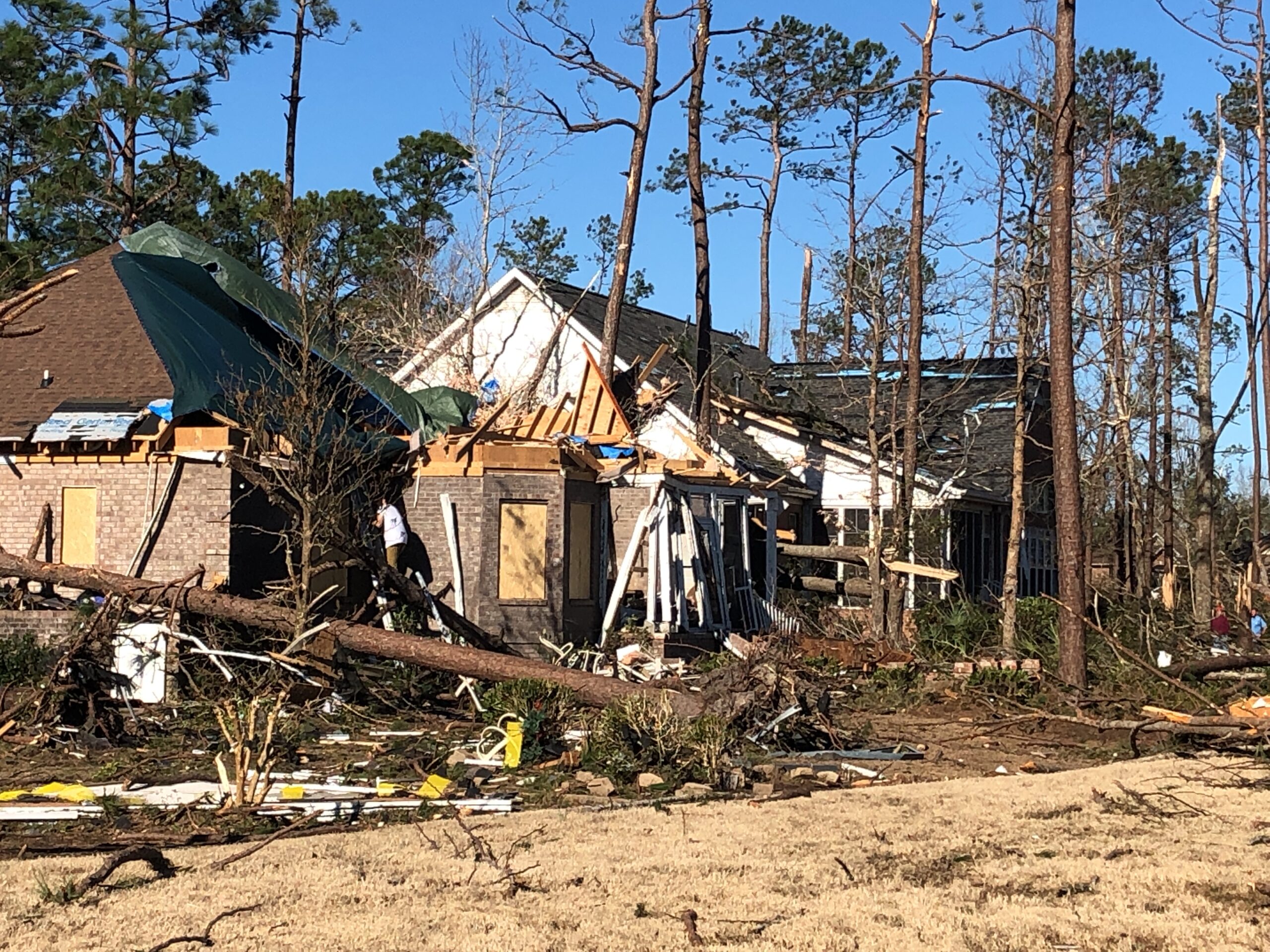 Above: A powerful tornado caused severe damage to homes in the Ocean Ridge Plantation neighborhood in Brunswick County on Feb. 15. Credit: NWS
FOR IMMEDIATE RELEASE
Contact:
Katie Mosher, kmosher@ncsu.edu
Spencer Rogers, rogerssp@uncw.edu, 910-620-0590 (cell)
Spencer Rogers, North Carolina Sea Grant's coastal construction and erosion specialist, has been tracking news and National Weather Service reports of the damage from the recent deadly tornado in Brunswick County.
Research monitoring of high-wind storms — including tornadoes and hurricanes — in recent decades has significantly improved our understanding of the hazards and how to minimize building damage when they occur, he explains.
While tornado winds can whip at 250 mph, those speeds are rare, Rogers says. Most tornadoes in the U.S. have peak wind velocities at or below 140-150 mph, which also happens to be the range of hurricane winds that new coastal structures must withstand, according to N.C. Building Codes.

"As we have seen in Brunswick County, the most common damage to individual houses is to the roofing coverings, which in most cases have fiberglass/asphalt shingles," Rogers notes. "Regardless of roofing material, when even a small area of roof is damaged, rainfall pours into the house through the joints in the plywood roof deck." Extensive interior water damage can be much more costly than replacing the roofing itself.
Construction researchers using full-scale wind-tunnels, along with post-storm surveys, have shown that options are available to limit water-penetration damage.
Upgrading existing roofing is difficult, Rogers says, but methods to minimize damage can be easy and inexpensive when applied to a new roof or when reroofing.
"The least expensive option is to use a specially tested tape to cover each seam in the roof deck, adding as little as $600 to the cost of reroofing a typical home," Roger says. The tape has been standard for Cape Fear Habitat for Humanity houses since 2008, now installed on over 150 houses.
Consumer Advantages and Options
Since 2011, the N.C. General Assembly has required insurance companies to offer premium discounts on homeowner wind insurance policies near the coast when certain wind-resistant features have been installed. "Discounts may be available for features like window protection with certified storm shutters or impact glass," Rogers explains. "A hip roof may qualify."
In particular, discounts also are available for a program called FORTIFIED Home. To qualify, a FORTIFIED Evaluation of your house is required.
"The first of several increasing levels of discounts is for a FORTIFIED Roof that requires an added water-resistant layer under your roofing and potentially added upgrades in how your roof is attached to the rest of the house," Rogers notes. "Annual discounts on wind insurance premiums start at about 5% and can go as high as 22%. Ask your insurance agent for details."
In addition, the State Wind Pool — the N.C. Joint Underwriting Association/N.C. Insurance Underwriting Association — is offering added incentives depending on your location:
In some of the highest risk zones, including parts of Brunswick County where residents may be repairing damage from the recent tornado, up to $600 credits to cover FORTIFIED Roof evaluations are available when reroofing.
If you have a roofing damage claim of greater than 50%, you may qualify for up to $5,000 to cover the cost of upgrading to a FORTIFIED Roof.
If you live on the barrier islands, grants of $6,000 are sometimes available if you are reroofing and upgrade to a FORTIFIED Roof.
Rogers' key message:
Before starting a roofing project, ask your insurance agent if you qualify for insurance incentives. Learn more in this memo. 
##
Watch for a related blog post next week with examples from the Outer Banks and New Hanover County of homes with Fortified upgrades.
North Carolina Sea Grant: Your link for research and resources for a healthier coast.