ABOVE: In Kinston, floodwaters remained high from the flooded Neuse River, which crested at 14 feet above flood stage six days after Matthew. Photo by Jocelyn Augustino/FEMA.
North Carolina coastal communities face many challenges: more frequent and severe storms and devastating flooding, sea-level rise and tremendous population growth. All of these apply stress to infrastructure, budgets and water resources. For example, North Carolina communities felt an estimated $1.5 billion in impacts from Hurricane Matthew in October 2016.
North Carolina Sea Grant and partners have shown that professional and academic collaborations will provide creative solutions to such problems — as well as identify innovative opportunities to address community concerns. Engineering solutions could include rehabilitating waterways; capturing and treating stormwater runoff; expanding floodways to reduce undesirable flooding in developed areas; and diversifying land use in urban and suburban areas by incorporating forests, wetlands and other high-quality natural areas.
After a successful pilot project with Bertie County and the Town of Windsor, Sea Grant and the NC State Department of Biological and Agricultural Engineering are gathering partners to develop innovative and comprehensive approaches for evaluating, modeling and mitigating flooding impacts in eastern North Carolina.
Neuse River Flood Mitigation Study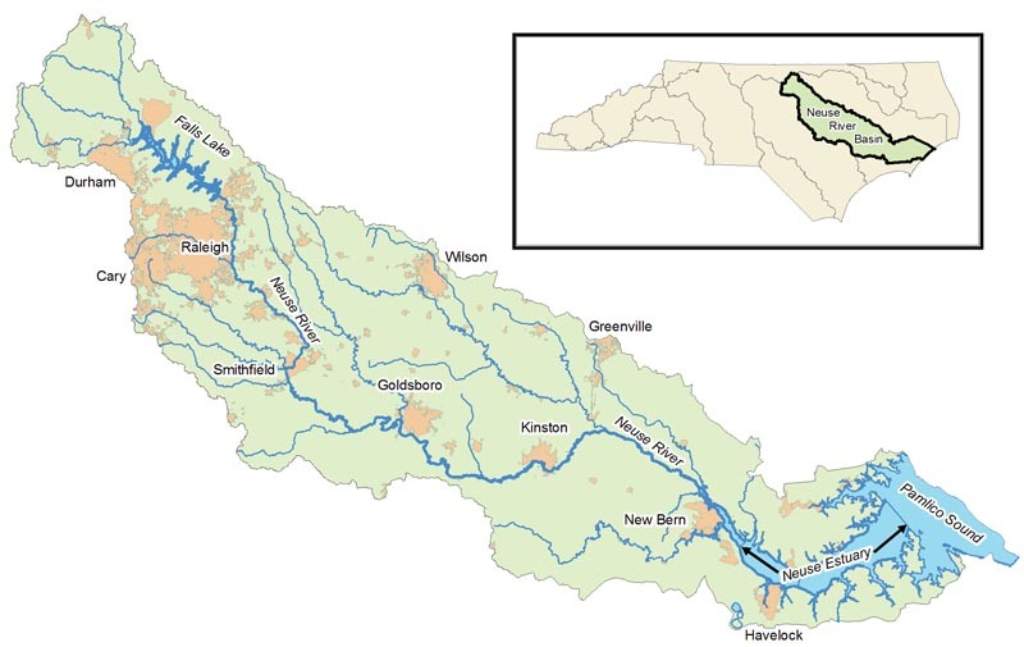 Recent major flooding events of the Neuse River have highlighted the need to identify the causes of the flooding and to assess potential abatement and mitigation measures. The N.C. Department of Transportation is funding experts at Sea Grant and NC State to consider these critical flooding issues.
The project team will apply hydrologic, hydraulic and geospatial modeling and analyses to the Neuse River Basin. These approaches will evaluate municipal, county and public concerns and perceptions of how the flooding occurs along with the varied impacts of the floodwaters.
The goals include a better understanding of the sources and nature of flooding in the basin, along with assessments of potential measures to reduce future flooding. The partners will keep a strategic focus on transportation-related impacts during flood events.
Stakeholder Input
The project team is hosting a series of workshops to gather relevant information from key community leaders and municipal staff about flooding and flood-related impacts. These sessions will build upon data and examples already identified and recorded through the Resilient Redevelopment Planning process previously organized by N.C. Emergency Management.
Each workshop will include presentations to review past flooding events and provide an update for on-going efforts of N.C. Emergency Management. The Sea Grant/NC State team also will outline the proposed objectives and timeline for the new work. A key element of each session will include time to review community maps, with local participants identifying specific areas of concern.
"We want folks to share thoughts and opinions about the causes and potential solutions to these flooding issues. The information they provide is critical to developing the specific focus and direction of our study effort," explains Barbara Doll, who is leading the project.
Meetings
April 17, 2018

, 

9 to 11:30 a.m.
Room 148C, Global Transpark
April 23, 2018

, 

9 to 11:30 a.m.
Town Hall Council Chambers
April 23, 2018

, 

2 to 4:30 p.m. 
Room 101, Wayne Community College, Walnut Building
Project Team
The watershed hydrology modeling currently being prepared for N.C. Floodplain Management program with N.C. Emergency Management will serve as a key foundation element for a portion the Sea Grant/NC State team's modeling and study effort.
DOT Project Liaisons TBA

DOT Project Liaisons TBA