NC Sea Grant Offers Fellowship with NC Sentinel Site Cooperative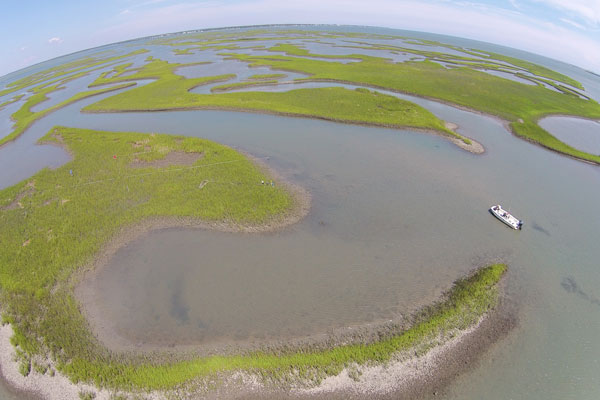 Updated Jan. 23, 2017, with new fellowship deadline.
FOR IMMEDIATE RELEASE
Contact:
John Fear, jmfear@ncsu.edu
Jennifer Dorton, dortonj@uncw.edu
Posted Friday, October 28, 2016
Middle Marsh in Rachel Carson Reserve is one of the sites in the North Carolina Sentinel Site Cooperative. Photo courtesy NOAA
North Carolina Sea Grant and the N.C. Sentinel Site Cooperative, or NCSSC, are offering a new joint fellowship for North Carolina-based graduate students. Recipients will conduct research addressing the needs of the NCSSC as identified within the cooperative's implementation plan.
This opportunity is open to graduate students in good academic standing, attending an accredited North Carolina university or college. Sea Grant and NCSSC anticipate supporting two fellowships of up to $10,000 each, subject to available funding. Projects would run between March 1, 2017, and Feb. 28, 2018.
Projects must occur within or be directly applicable to the NCSSC locations. Fellows must conduct research within one or more of the following sea-level rise and inundation focal areas:
Impacts on coastal habitats and their associated ecosystem services
Marsh and wetlands sediment supply and distribution
Economic and/or ecological assessments of sea-level rise on human communities and/or coastal ecosystems
Vulnerability of natural and man-made environments to nuisance flooding
Using citizen science-based efforts to better understand sea-level rise
Development of K-12 pedagogical approaches to climate and sea-level rise
Completed applications must be emailed as a Microsoft Word or Adobe PDF document to NCSSC Coordinator Jennifer Dorton at dortonj@uncw.edu by 5 p.m., Feb. 6, 2017. For the full RFP, go to ncseagrant.ncsu.edu/ncssc.
"North Carolina Sea Grant is pleased to extend its partnership with the NCSSC. Graduate fellowships are an ideal vehicle for new research on important topics," says Susan White, Sea Grant executive director.
The NCSSC, one of five cooperatives implemented as part of the NOAA Sentinel Site Program, was established to provide coastal communities and resource managers with information on the potential impacts of sea-level rise on coastal habitats. The cooperative works to bring together stakeholders to leverage resources across organizations, integrate the multiple efforts within the NCSSC boundary, and provide better information to help stakeholders adapt to sea-level rise and coastal inundation. Read more here.
The N.C. Sentinel Site Cooperative is located on North Carolina's central coast, encompassing Carteret, Craven and Onslow counties. This area includes the Rachel Carson National Estuarine Research Reserve, state and national parks, Department of Defense installations, and State Port facilities.
###
North Carolina Sea Grant: Your link to research and resources for a healthier coast