FOR IMMEDIATE RELEASE
Contact:
Sandra Harris, 919-515-9101, sandra_harris@ncsu.edu
Posted Thursday, November 20, 2014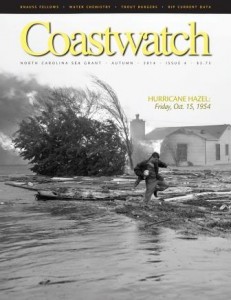 North Carolina Sea Grant is running its popular "Buy One, Gift One" offer for its flagship magazine, Coastwatch. Through Dec. 31, 2014, buy or renew a one-year subscription at the regular price of $15 and get a free one-year subscription to gift to a friend.
This award-winning magazine takes its readers on an exploration of the North Carolina coast — its natural wonders, marine life, environment, people, and communities.
We hope you will use this special offer to help make your gift-giving a little brighter and easier this holiday season. There are no limits on subscriptions for this BOGO offer. So for each paid one-year subscription, you get one free. Cross off two names on your list for the price of one. Your recipient(s) will receive an acknowledgment of your gift, along with the Holiday 2014 issue. Please hurry! This offer expires Dec. 31, 2014.
For your convenience, please use this order form. Checks should be made payable to NC Sea Grant with "Coastwatch BOGO" written on the memo line. Please mail your check and order form(s) to: Coastwatch, NC Sea Grant, NC State University, Box 8605, Raleigh, NC 27695-8605. For questions, please contact Sandra Harris at 919-515-9101 or sandra_harris@ncsu.edu.
Happy Holidays from North Carolina Sea Grant!
###
North Carolina Sea Grant: Your link to research and resources for a healthier coast