RISING Reveals Coastal Changes through Art and Oral History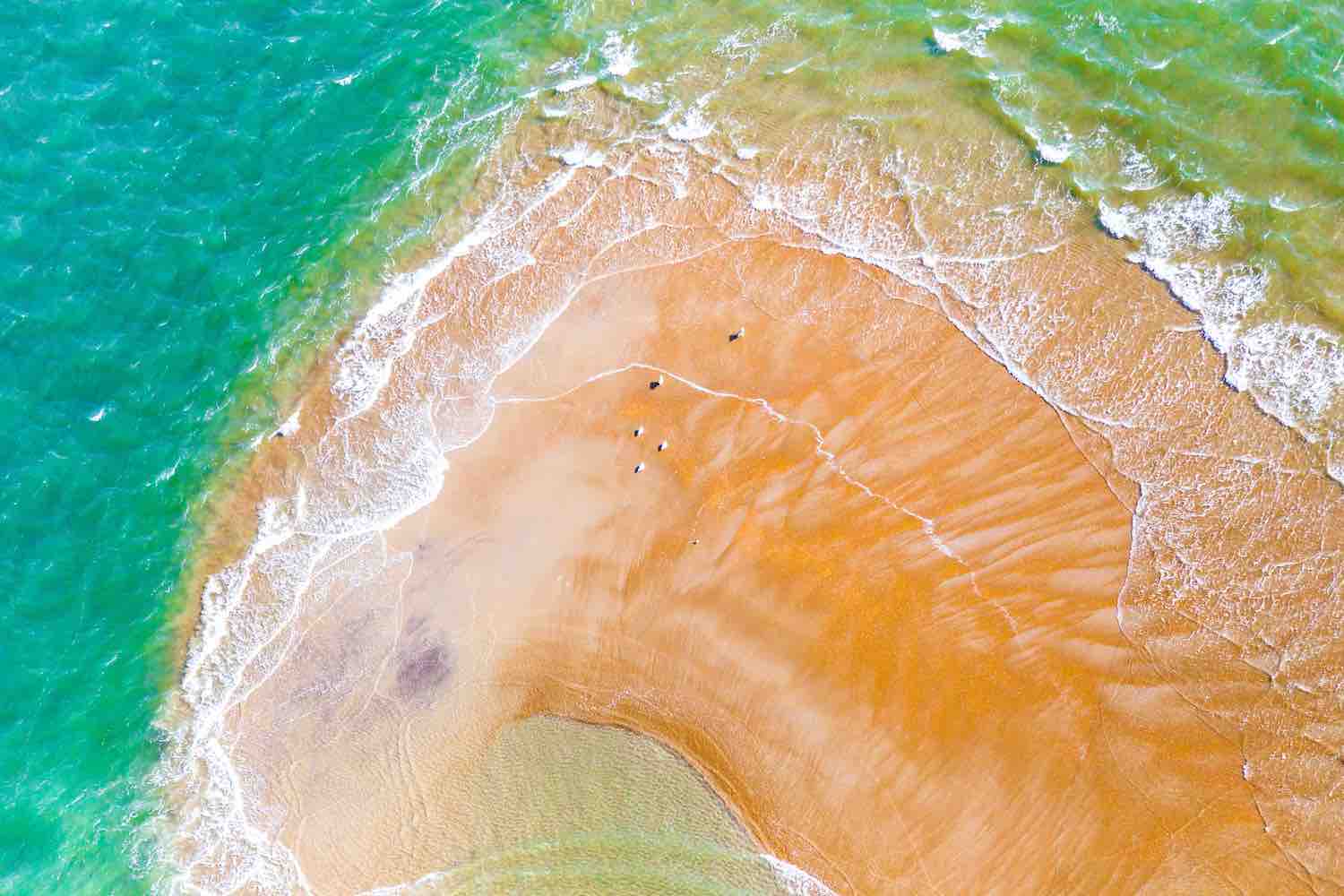 Above: "Dynamic Destiny" by Baxter Miller. Natural processes, like erosion, wind, severe weather events and tide, change our shoreline's appearance as sand shifts from one place to another — opening and filling inlets, widening or narrowing beachfronts, and altering the tide line of soundside creeks and marshes. People also cause change through land management and coastal development, from building living shorelines to installing bulkheads to dredging. While the shoreline moves and changes, it is more difficult for people and the structures we build to do the same.
North Carolina Sea Grant provided funding for this project through the Community Collaborative Research Grant and is sharing this news release on behalf of the exhibit team and the hosts of RISING. 
FOR IMMEDIATE RELEASE
Contact:
Baxter Miller, 252-670-1652, baxmiller@gmail.com
Chapel Hill, NC — RISING, a new collaborative multimedia exhibition that explores coastal environmental change, opens at the Center for the Study of the American South at the University of North Carolina at Chapel Hill today, Friday, Feb. 16 from 5:30 to 7 p.m. Coastal snacks will be provided by Chapel Hill's own Bill Smith. Music will be provided by Amy Davis. The exhibition will be on view weekdays at the center until June 2018, then will move to the coast and other locations.
In a region where lives and livelihoods depend on natural resources — for traditional occupations of fishing and farming, and for newer economies based on tourism and development — what does constant change, heightened by rising global temperatures and encroaching sea levels, mean to those who live and work in these communities?
Beyond statistics and projections, what are the experiences and adaptation strategies of people who live on the front lines of coastal change? How might the stories of residents, business owners, commercial fishermen, farmers, and community leaders offer insight into the multi-faceted threats facing coastal communities? Can their stories transcend political discourse and offer a perspective that captures the natural, cultural, and economic consequences of change? These are the questions that RISING, a collaborative multidisciplinary research project combining oral history and photography, seeks to answer.
The exhibition features the photography of Baxter Miller, whose work focuses on the nuances of rural coastal traditions and daily life, and pairs photographs with oral histories from residents of the Inner and Outer Banks. The oral histories featuring residents from Carteret, Dare, Hyde, Tyrell and Washington Counties were collected by Ryan Stancil, a content creator and community builder whose work focuses on the intersection of culture, environment and food in eastern North Carolina, and Barbara Garrity-Blake, a cultural anthropologist specializing in fisheries research and oral history collections.
The exhibition will travel to the coast to be in exhibited in the communities it represents. "The exhibition is a mix of aerial and sea-level photography — abstract and documentary — that evokes the dynamic and vibrant nature of the region and underscores our relationship with the water and sand. My hope is that it will provide an alternative lens through which to engage in conversation about whether my home region's fate will be one of loss or continued resilience," says Baxter Miller.
"Paired with compelling imagery, I'm hopeful that by uplifting the voices of those living at the water's edge that the exhibition might usher in a renewed sense of understanding for the challenges our coastal neighbors face, and inspire conversation about ways to live with and adapt to impacts of constant and potentially accelerated environmental change," adds Ryan Stancil.
The project team is also comprised of physical and social science experts as well as coastal community leaders including Jessica Whitehead, coastal communities hazards adaptation specialist for North Carolina Sea Grant; Stan Riggs, distinguished professor of Geology at East Carolina University; Karen Willis Amspacher, director of the Core Sound Waterfowl Museum & Heritage Center on Harkers Island; Christine Avenarius, former sociocultural anthropologist at ECU; Alton Ballance, former educator, director of North Carolina Center for the Advancement of Teaching on Ocracoke; Ben Cahoon, architect and mayor of Nags Head; Susan West, journalist and community leader on Hatteras Island; and Margaret Cheatham Williams, staff photojournalist for the New York Times.
The project has been made possible by North Carolina Sea Grant's Community Collaborative Research Grant Program, in partnership with the William R. Kenan Jr. Institute for Engineering, Technology and Science. Additional support is provided by the Center for the Study of the American South, Southern Cultures, Food For All, the Coastal Resilience Center and the Department of American Studies.
For more information, visit risingnc.com or go to facebook.com/risingnc.
Link to images, descriptions and captions:
https://www.dropbox.com/sh/mq4zw6examh7hoh/AAC6fBSpnWzlz_RQ8BGA0MZ0a?dl=0
##
North Carolina Sea Grant: Your link to research and resources for a healthier coast