Workboats, Ocean Literacy, Water Quality, Rip Current Safety Featured in Coastwatch
FOR IMMEDIATE RELEASE
Contact:
E-Ching Lee, 919-515-9098, eching_lee@ncsu.edu
Posted Monday, July 14, 2014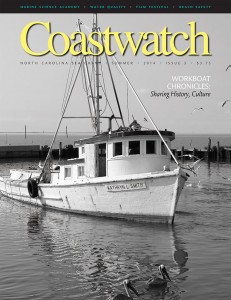 For the people of Core Sound, workboats are an important part of their community's heritage. In the Summer 2014 issue of Coastwatch, North Carolina Sea Grant's flagship magazine, read an excerpt and see photographs from The Workboats of Core Sound: Stories and Photographs of a Changing World by Lawrence S. Earley about the lineage of North Carolina workboats. Rebecca Nagy asks him some follow-up questions.
Students at Eugene H. Ashley High School are getting their toes wet at a new Marine Science Academy, charting a new course in ocean literacy. Pam Smith takes readers on a tour.
Restored marshes can remove excess fertilizer from surface water, but how much? Rhett Register describes a new technique researchers are using to monitor water quality.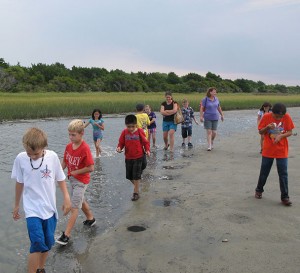 Marine science graduate students brought an international film festival, Beneath the Waves, to locations across Carteret County. Katie Mosher updates readers about the event and has a Q&A session with Frank Sherman who teaches fourth-grade science at Beaufort Elementary.
Beyond the beach, there is more to explore in the coastal region. Visitors now have new guides to local landmarks along the trails on the Outer Banks National Scenic Byway. E-Ching Lee explains. And Mosher introduces Cycle North Carolina events, where cyclists can take a ride along scenic back roads on their own or with a group.
Research findings on striped bass egg production show implications for aquaculture — and maybe for people. Register talks with the researchers who made the discovery.
Do you have a desire for shelled seafood this summer? Vanda Lewis shares some appetizing recipes featuring clams, crabs and shrimp from Mariner's Menu: 30 Years of Fresh Seafood Ideas written by Joyce Taylor.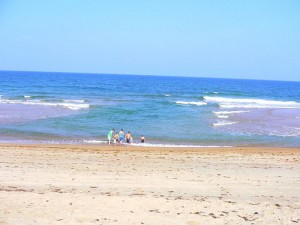 This beach season, weather forecasters, lifeguards, North Carolina Sea Grant and other partners are again teaming up to focus on rip current safety. Mosher highlights the science and safety of the surf zone, and offers a pull-out poster with tips to break the grip of the rip.
Coastwatch is the flagship publication of North Carolina Sea Grant. Many current and past Coastwatch stories can be viewed online at https://ncseagrant.ncsu.edu/coastwatch. To request a sample copy of Coastwatch, write to Coastwatch, North Carolina Sea Grant, NC State University, Box 8605, Raleigh, NC 27695-8605; call 919-515-9101; or send an email to sandra_harris@ncsu.edu.
###
NOTE TO EDITORS: The text of stories that appear in Coastwatch may be reprinted with the following credit: Reprinted from Coastwatch, a publication of North Carolina Sea Grant. For a complimentary copy, call 919-515-9101 or send an email to sandra_harris@ncsu.edu.
For reprint requests regarding photos in Coastwatch, contact E-Ching Lee, 919-515-9098, eching_lee@ncsu.edu.
North Carolina Sea Grant: Your link to research and resources for a healthier coast