Communications
Accepting Proposals for 2024 Community Collaboration Research Grants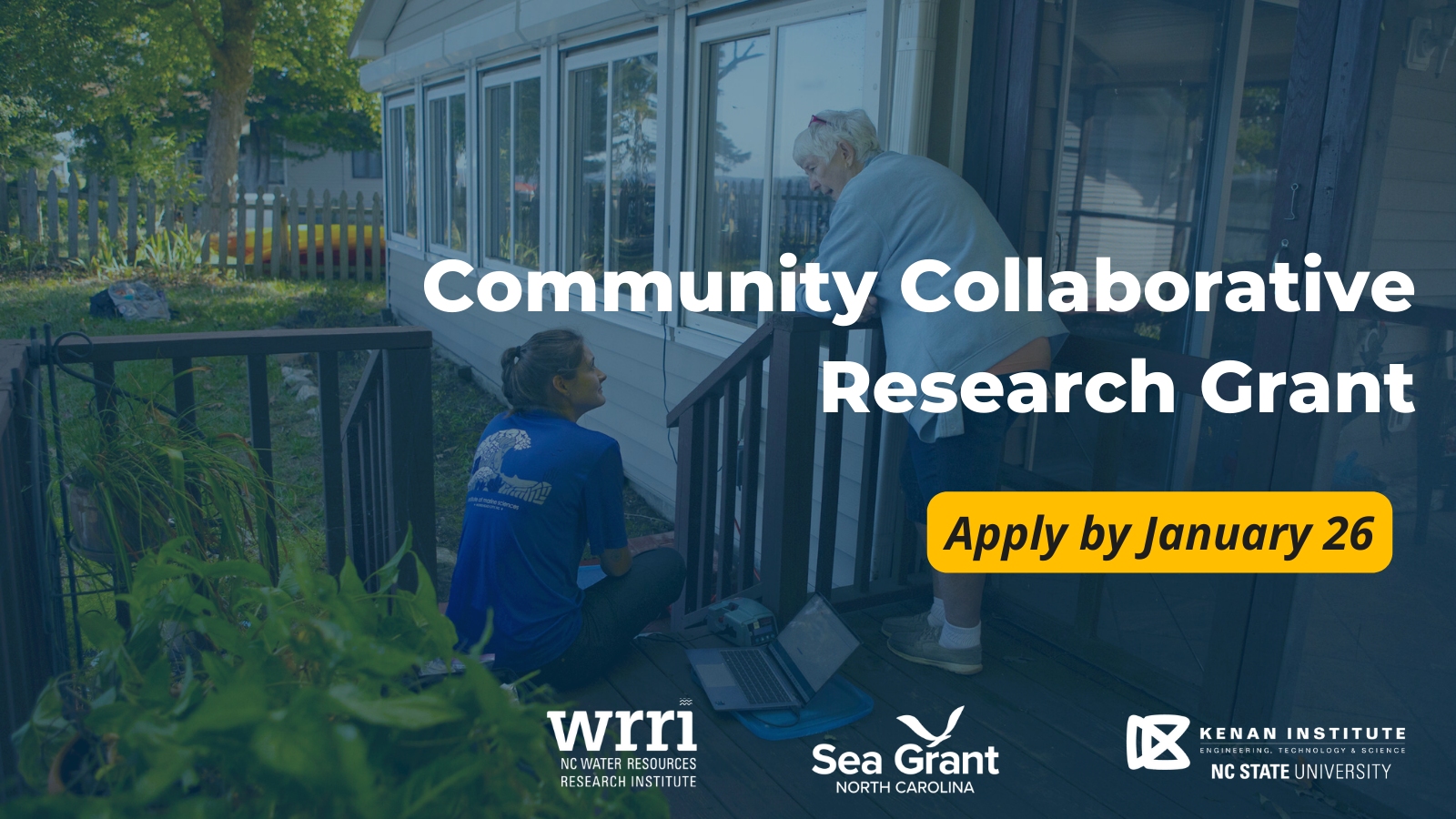 Contact: Kaitlin Tucker, ktucker@ncsu.edu
North Carolina Sea Grant, NC Water Resources Research Institute (WRRI), and the William R. Kenan, Jr. Institute for Engineering, Technology and Science (KIETS) are accepting proposals for the Community Collaborative Research Grant (CCRG) program for projects to start in May 2024. The deadline to apply is 5 p.m. on January 26, 2024.
"The CCRG brings together academic, government, non-profit, and business partners across North Carolina," says Raj Narayan, associate director for KIETS. "We look forward to receiving proposals for projects that support community resilience and authentically engage local communities in addressing water, coastal, or climate challenges," says Narayan.
"The CCRG is an innovative research opportunity, because each project requires a researcher to partner with a local knowledge expert. This collaborative approach leads to more impactful outcomes that benefit local communities," says Kaitlin Tucker, WRRI's coordinator for research and engagement.
Proposals should align with North Carolina Sea Grant and WRRI's vision for diversity, equity, inclusion, justice, and accessibility. CCRG strongly encourages proposals from people in traditionally underserved and underrepresented communities, including rural areas of North Carolina, as well as proposals that demonstrate how projects and related outreach will benefit those communities.
John Fear, deputy director for NC Sea Grant and WRRI, says the CCRG program is especially interested in proposals from applicants at Historically Black Colleges and Universities and Minority Serving Institutions.
New grants will range from $5,000 to $25,000 for one-year projects. Previously-funded CCRG projects have supported youth education, community science, tribal knowledge, air and water quality, human health, and more. Stories about many previous projects are available at go.ncsu.edu/ccrg.
Interested community members or scientists can contact Kaitlin Tucker at ktucker@ncsu.edu with questions or to help identify potential research partners with relevant technical or local knowledge.
"CCRG partnerships bring significant returns on investment," Fear notes. "Often partnerships sustain themselves, and the momentum produces ongoing benefits for communities across the state."
Access the full Request for Proposals and submission instructions on the NC Sea Grant website.