FOR IMMEDIATE RELEASE
Contact:
E-Ching Lee, 919-515-9098, eching_lee@ncsu.edu
Posted Friday, July 8, 2016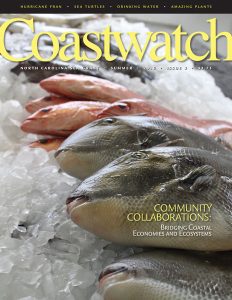 Nearly 20 years have passed since Hurricane Fran hit our state in September 1996. In North Carolina Sea Grant's Summer 2016 issue of Coastwatch magazine, we share excerpts from Jay Barnes book, North Carolina's Hurricane History, as he relives the power and destruction of this benchmark storm from the coastal plain to the Piedmont.
Sea Grant's newest research projects emphasize coastal collaborations among scientists, local communities and community organizations. Katie Mosher and E-Ching Lee explain.
What happens when a sea turtle gets hooked by a recreational angler? Learn the answer as Diana Hackenburg explores efforts to measure and improve a sea turtle's health following an accidental capture.
Have you visited our new blog, Coastwatch Currents? The magazine offers a sampling of the many stories you'll find online.
Cathy Dobbins and Eric McDuffie highlight a new website — known as DRIP — to educate students and consumers about water resources in the state.
The coastal plain has plants that thrive in harsh sand and sun. Take a trip with Janna Sasser as she introduces you to a few highlighted in North Carolina's Amazing Coast.
Keeping your family fed this summer, and all while staying cool, is a winning combination. We share three simple, refreshing, no-fuss recipes — crab salad, fish flake and macaroni salad, and grilled scallop kabobs — from Mariner's Menu: 30 Years of Fresh Seafood Ideas.
On the back page, Mosher explains why July 4th is a special day for North Carolina Sea Grant too.
Coastwatch is the flagship publication of North Carolina Sea Grant. Many current and past Coastwatch stories can be viewed online at www.nccoastwatch.org. To request a sample copy of Coastwatch, write to Coastwatch, North Carolina Sea Grant, NC State University, Box 8605, Raleigh, NC 27695-8605; call 919-515-9101; or send an email to sandra_harris@ncsu.edu.
###
NOTE TO EDITORS: The text of stories that appear in Coastwatch may be reprinted with the following credit: Reprinted from Coastwatch, a publication of North Carolina Sea Grant. For a complimentary copy, call 919-515-9101 or send an email to sandra_harris@ncsu.edu.
For reprint requests regarding photos in Coastwatch, contact E-Ching Lee, 919-515-9098, eching_lee@ncsu.edu.
North Carolina Sea Grant: Your link to research and resources for a healthier coast