Coastal Landscaping Resources for Novices and Green Thumbs Alike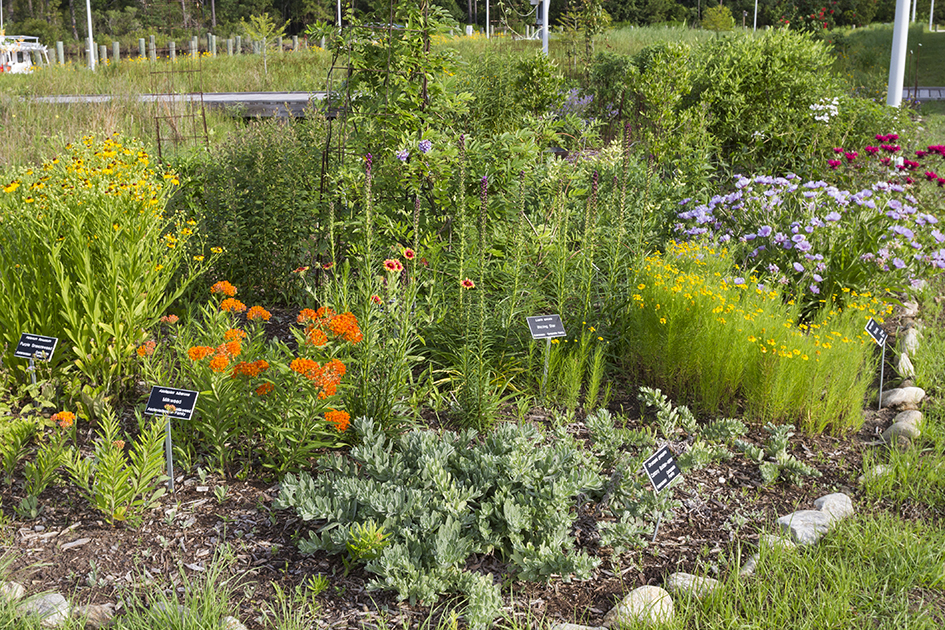 Above: A pollinator demonstration garden at the Coastal Studies Institute in Wanchese. Photo by Jeff Lewis
FOR IMMEDIATE RELEASE
Contact:
Katie Mosher, communications director, kmosher@ncsu.edu
It may be sultry now, but autumn isn't so far off. If you're looking for activities to keep you busy in the cooler months, consider sprucing up your yard. The Coastal Landscapes Initiative, or CLI, has produced several resources over the past year to inspire and assist those interested in nature-enhancing landscaping.
Most recently, a CLI team produced a set of 10 landscaping design templates featuring native N.C. plants. Each design provides ideal site conditions; a detailed planting guide; seasonal bloom or berry color; an illustration of the plantings at maturity; and maintenance tips.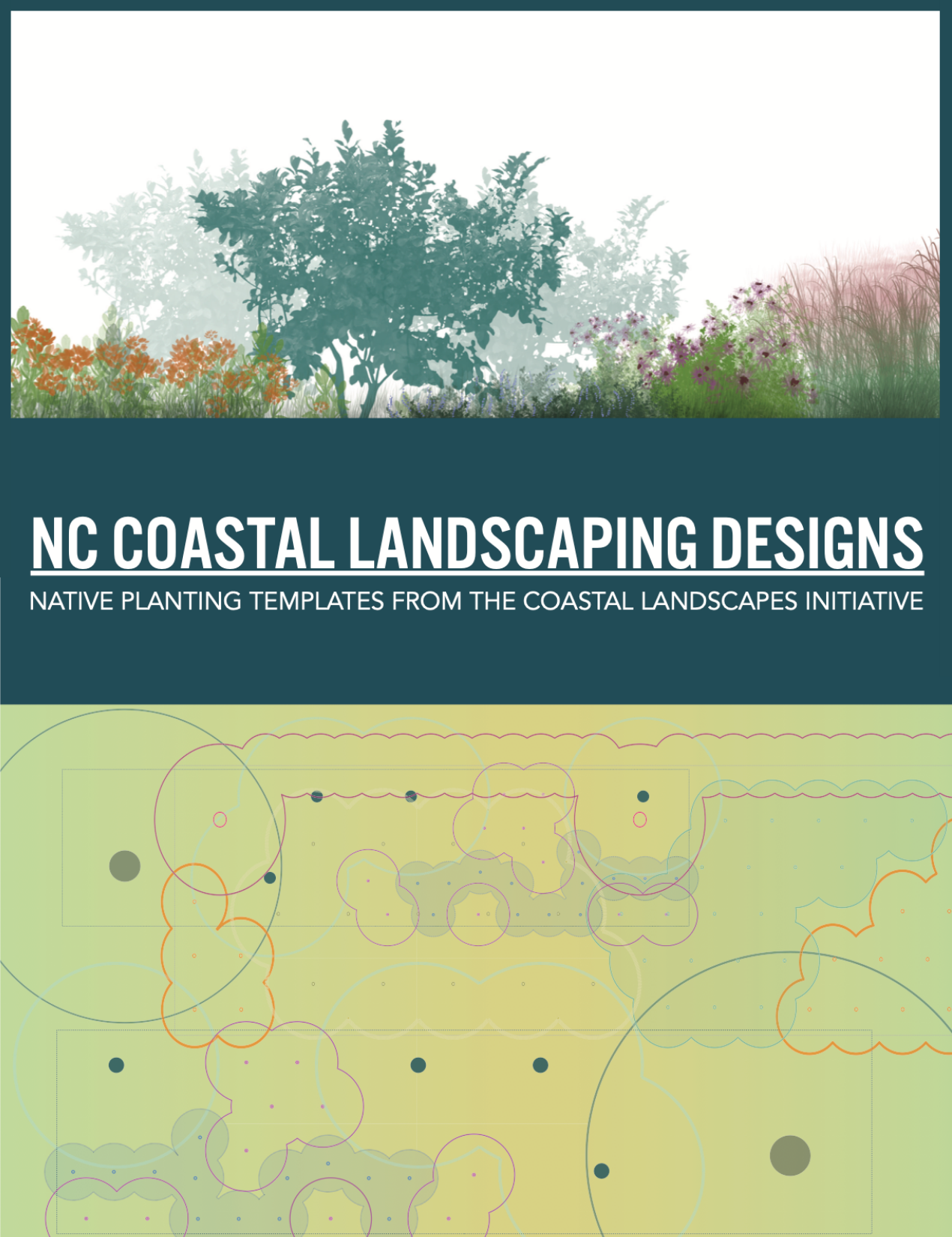 "These templates can be adapted to fit various yards and gardens, from the coast to the piedmont," says North Carolina Sea Grant's coastal resources and communities specialist, Gloria Putnam, who oversaw the project.
Earlier this year, two CLI members — North Carolina Sea Grant's coastal economist, Jane Harrison, and sustainable waters and communities coordinator, Christy Perrin — held a webinar offering tips on creating coastal landscapes that will benefit both local ecology and the surrounding community.
"You can think of the webinar like an introductory course to sustainable landscaping," Harrison says. "Hopefully people will find our suggestions practical and doable."
"We designed the webinar to be shared in various settings. For example, board members of homeowners associations could watch it and then screen it for their residents," Perrin adds.
Coastal Landscaping also was the topic of conversation during a recent N.C. Museum of Natural Science's Virtual Science Café, hosted by Chris Smith and featuring guests Harrison, Perrin, and Putnam. The team described how several CLI design templates can be applied to a yard along a tidal creek in Carteret County, as well as ways to reduce stormwater runoff, among other topics.
Another CLI resource released this year was an interactive map marking the location of various gardens along the coast that demonstrate environmentally friendly landscaping practices. These sites are generally accessible to the public, although visitors should check on COVID-19-related restrictions.
"Places like the N.C. Aquarium at Roanoke Island and the New Hanover County Arboretum have pollinator gardens that are really inspiring," says Putnam, who led the project. "Visiting sites like these, either online or in person, is a great way to find ideas for your own garden."
A companion demonstration garden checklist also is available for anyone interested in creating their own model site.
In addition to these resources, last year CLI published a booklet featuring 34 native N.C. plants — including trees, shrubs, grasses, vines and flowers — that flourish along the coast. The booklet provides brief descriptions of each plant and its ideal conditions. A companion brochure offers plant snapshots for easy reference.
For anyone who wants to learn about more species that thrive in coastal sun and salty air, a comprehensive native plant guide is available. Published by North Carolina Sea Grant and the University of North Carolina Press, Seacoast Plants of the Carolinas: A New Guide for Plant Identification and Use in the Coastal Landscape covers more than 200 species, with color photographs and details about their value to wildlife, relationship to natural communities, propagation, and landscape use. Author Paul E. Hosier is a founding member of the CLI as well.
As you consider your landscaping options, bear in mind that updates can be done incrementally.
"Adopting new landscaping practices might seem daunting at first, but you don't have to tackle everything at once. You can start by planting a native, for instance, or by top-dressing your grass with compost." Harrison says. "Our various CLI resources can guide you on small and large projects alike."
For more information about the Coastal Landscapes Initiative and for additional resources, visit go.ncsu.edu/coastallandscapes.
##
North Carolina Sea Grant: Your link to research and resources for a healthier coast