RISING Exhibit Opening Oct. 10 at Coastal Studies Institute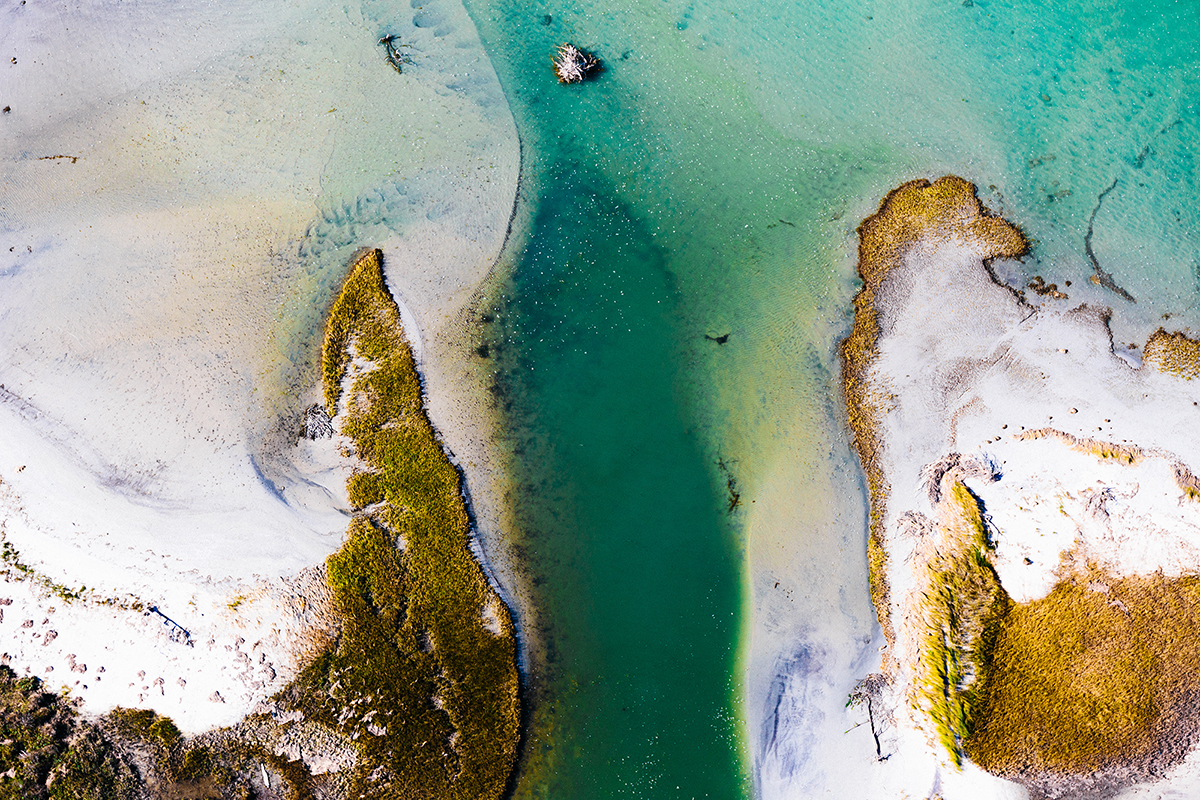 Above: A breach in Core Banks. Photo by Baxter Miller
FOR IMMEDIATE RELEASE
Contact:
John McCord, Coastal Studies Institute, 252-475-5450, mccordr@ecu.edu
Katie Mosher, North Carolina Sea Grant, 919-515-9069, kmosher@ncsu.edu
North Carolina Sea Grant has provided funding for the RISING project. Thus, we are pleased to share this notice from the Coastal Studies Institute. Watch for updates re: links for livestreaming and archiving of the Oct. 10 program.
The Coastal Studies Institute at East Carolina University's Outer Banks Campus will host the RISING exhibit beginning Oct. 10, kicking off with a 5 p.m. public reception and 6 p.m. community panel discussion as part of the "Science on the Sound" lecture series. You can watch a recording of the discussion on the Coastal Studies Institute's YouTube channel here.
"RISING: Perspectives of Change along the North Carolina Coast" is a collaborative, multidisciplinary research project that combines oral history and photography to address the natural, cultural and economic consequences of change long experienced by North Carolina's coastal communities. The panel discussion will include members of the community as well as the exhibit creators, Baxter Miller and Ryan Stancil.
The exhibit and event are co-hosted by the UNC Institute for the Environment Outer Banks Field Site (OBXFS). The OBXFS is a place-based, interdisciplinary semester program in which students are immersed in the coastal environment and community by taking a range of courses, traveling for field experiences, completing individual internships with local organizations, and working together on a Capstone research project that addresses a real-world problem. For this year's Capstone, OBXFS students are working with the Town of Nags Head to examine residents' perspectives on wastewater challenges and sea-level rise, looking specifically at how these perspectives shape where and how they live.
Linda D'Anna, UNC faculty member with OBXFS, describes, "RISING, with its amazing photographs and engaging oral histories, offers our UNC students a profoundly rooted opportunity to deepen their burgeoning connections to a place defined by change by illuminating how its inhabitants have, and continue to, perceive, experience, live with, and adapt to those changes. It is a wonderful complement to the students' study of how changing conditions can affect individual, business, and public decisions. Getting to hear the voices of residents and see images that reflect critical changes is great for our program, but also for the larger OBX community. We look forward to having many people come share this exceptional exhibition with us."
RISING features dynamic photography by Hatteras Island native, Baxter Miller, oral accounts collected by Ryan Stancil and Barbara Garrity-Blake, and scientific insight developed by project team members including Jessica Whitehead of North Carolina Sea Grant. The combination of visual and auditory components provides a dimensional look at how change is experienced across eastern North Carolina. The exhibit aims to confront specific aspects of changes to which local residents and communities are required to adapt — as they have for centuries — while incorporating sea level rise and the human dimension in to the dialogue.
The RISING exhibit at CSI will begin Oct. 10 and continue through January 2019. The public can view the exhibit from 9 a.m.-4:30 Monday through Friday. The project is funded by the Community Collaborative Research Grant, a program of North Carolina Sea Grant, in partnership with the William R. Kenan Jr. Institute for Engineering, Technology and Science.
Read more about RISING in the Summer 2018 issue of Coastwatch magazine. 
##