Coastwatch Features an Exclusive Sneak Peek Inside Bland Simpson's New Book
The new issue of North Carolina Sea Grant's award-winning Coastwatch magazine includes an exclusive first look inside North Carolina: Land of Water, Land of Sky, the latest work from Bland Simpson. The state's oft-honored voice of the coast pays tribute to North Carolina's environs and residents in a blend of personal and collective history as only he can tell it, including the tale of a Harkers Islander and his heroic D-Day rescues.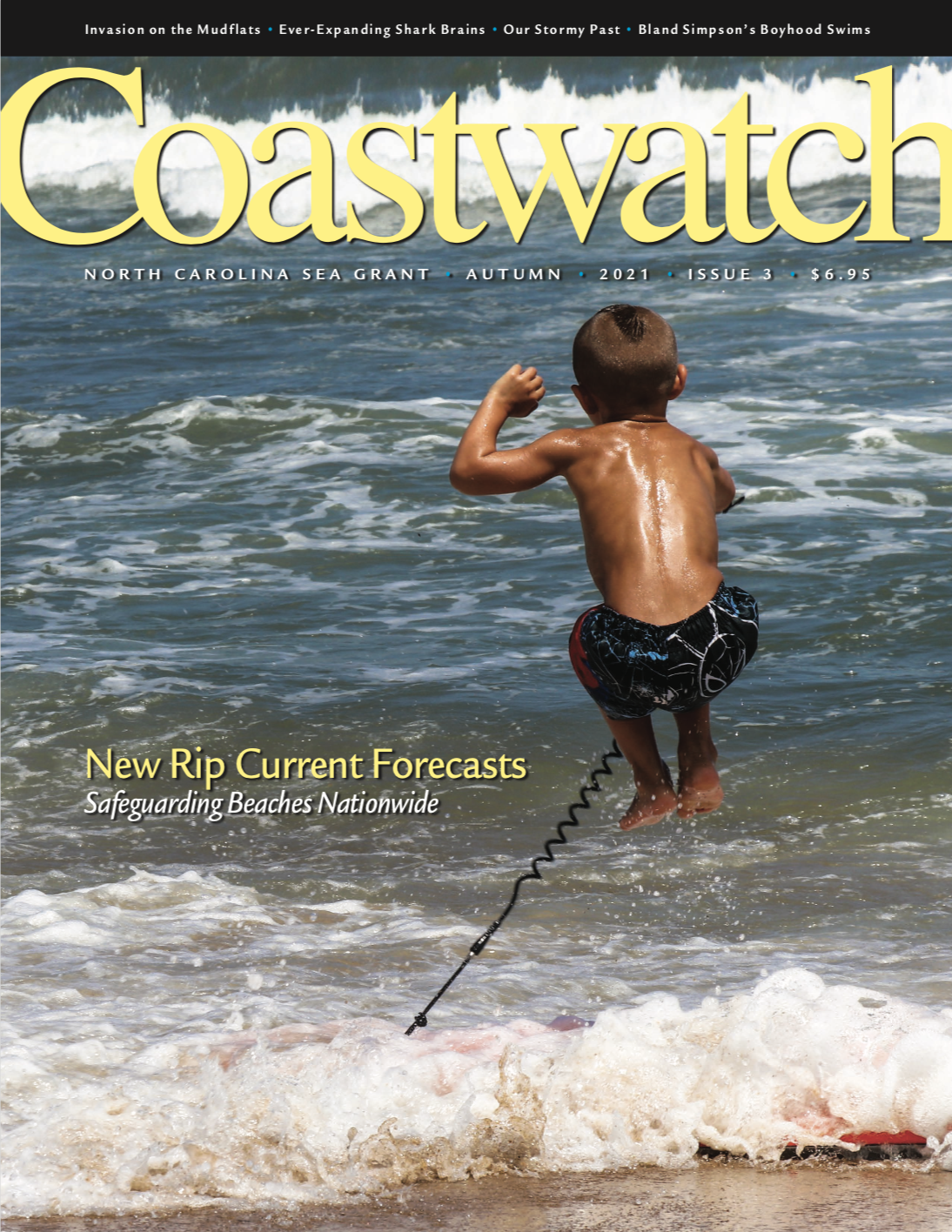 In our cover story, Coastwatch science editor Julie Leibach, who recently received her fifth honor in three years for feature writing, explores new rip current forecasting and how researchers are working to safeguard beachgoers.
Coastal geologist Antonio B. Rodriguez at the University of North Carolina at Chapel Hill's Institute of Marine Sciences then explains how sediment samples hundreds of years old reveal the landward migration of salt marshes in "Digging Up a Stormy Past."
In "New Links in the Sea-to-Table Chain," longtime Coastwatch writer Susan West provides a behind-the-scenes look at how the North Carolina Local Food Council responded when the pandemic shook the commercial fishing industry in the first half of 2020.
Do water snakes get thirsty? Sea Grant science communicator Lauren D. Pharr explains what happened when a research team entered swampy terrain to hand-capture snakes and measure the reptiles' sensitivity to dehydration.
In "The Ever-Expanding Brains of Atlantic Sharpnose Sharks," UNC-Wilmington marine biologist Kara E. Yopak describes some of her latest research and what it tells us about these sharks' motor control and sense of smell as they mature.
There's a seaweed invasion on our state's intertidal mudflats, but Coastal Research Fellow Aaron Ramus explains why Gracilaria might not be a manevolent invader.
As the pandemic continues to affect K-12 learning models, several thousand North Carolina teachers, students, and families already have accessed the free Watershed Wisdom lesson Plan. Christy Perrin, sustainable waters and communities coordinator for North Carolina Sea Grant and the N.C. Water Resources Research Institute, offers a sampling of the content for this issue's Coastwatch Classroom.
Plus: Hook, Line & Science draws on the talents of three student guest authors to look at the side effects of protecting oyster reefs, the effectiveness of self-releasing hooks, and the mysterious wanderings of southern flounder.
And, as always, this issue of Coastwatch includes new seasonal recipes that Vanda Lewis has plucked from North Carolina Sea Grant's popular online seafood guide, Mariner's Menu.
###
---
200,000 people read Coastwatch annually online and in print.
Online: ncCoastwatch.org
In print: go.ncsu.edu/Subscribe-Now. New subscriptions will start with the Winter 2021 issue.
Permissions: Some content that appears in Coastwatch is available to republish. Email dmshaw@ncsu.edu.