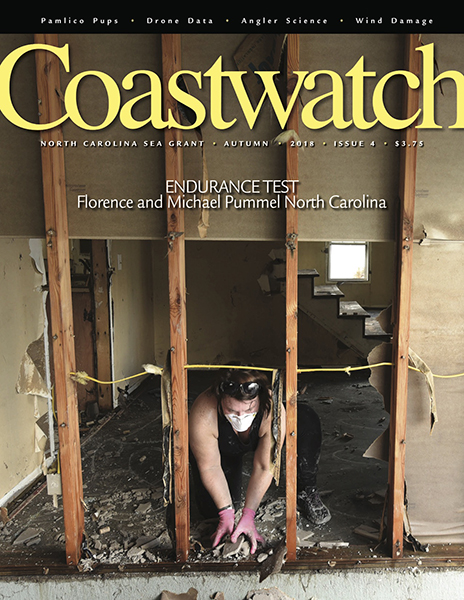 Contact:
Katie Mosher, kmosher@ncsu.edu, 919-515-9069
The Autumn issue of Coastwatch, North Carolina Sea Grant's flagship publication, looks back on hurricane season, reveals new research on bull sharks, follows an innovative project to map oyster reefs by using drone imagery — and much more. We also include a reader survey in this issue to gather feedback as we look ahead.
Julie Leibach's curated photo essay shows the range of hurricane damage across the state, and she also explores the remarkable flooding from Florence, the wettest tropical system on record in the Carolinas.
Katie Mosher talks to Spencer Rogers, North Carolina Sea Grant's coastal construction specialist, about insurance incentives for homeowners to consider when making repairs after wind damage.
Shark expert Chuck Bangley discusses the recent rise of young bull sharks in the Pamlico Sound.
Tornado Alley native Frank Lopez, extension director for North Carolina Sea Grant and the state's Water Resources Research Institute, talks about his new role — and about his escape from a waterspout.
North Carolina Sea Grant specialists Scott Baker and Sara Mirabilio launch Hook, Line & Science, a new blog for recreational marine fishermen that also will become a regular feature in Coastwatch.
Anna Windle and Sarah Poulin explain how they used sophisticated drone imagery that surpasses satellite photography in assessing oyster reef health.
Holly White, principal planner for the Town of Nags Head, and John Fear, deputy director of North Carolina Sea Grant and the state's Water Resources Research Institute, receive honors for their outstanding leadership on climate change adaptation.
North Carolina Sea Grant coastal economics specialist Jane Harrison moderates a trans-Atlantic discussion about fishing and seafood.
###
To subscribe to Coastwatch, please visit our bookstore.
To request a sample copy: mail Coastwatch, NC Sea Grant, NC State University, Box 8605, Raleigh, NC 27695-8605; or email dmshaw@ncsu.edu. Many current and past Coastwatch stories are available online.
PERMISSIONS: The text of stories that appear in Coastwatch may be reprinted with the following credit: Reprinted from Coastwatch, a publication of North Carolina Sea Grant.
For reprint requests regarding photos in Coastwatch, contact dmshaw@ncsu.edu
North Carolina Sea Grant: Your link to research and resources for a healthier coast