Sea Grant Releases the All-Digital Winter Issue of Coastwatch for Free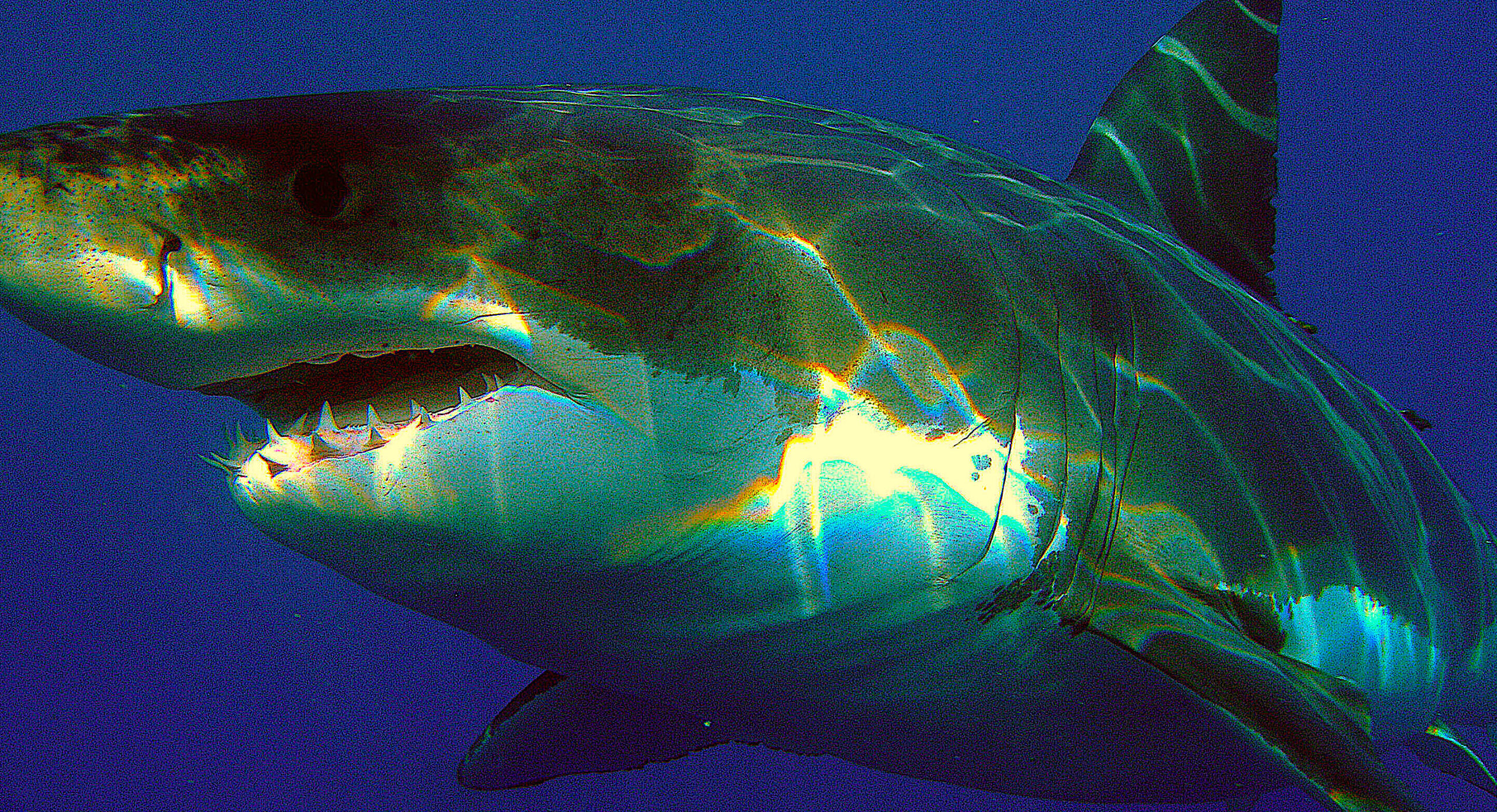 Coastwatch magazine has launched its first all-digital issue, packed with over three dozen free videos and other multimedia content. North Carolina Sea Grant's award-winning publication includes a look at how descending devices are saving reef fish, a sneak peek at new cooking videos featuring Chef Ricky Moore, new research that keeps sharks off commercial fishing gear, and much more.
To reduce barotrauma and increase rates of survival during catch and release, descending devices are now required on all vessels targeting snapper and grouper in the Southeast. Science editor Dan DiNicola kicks off the Winter issue with An Angler-Inspired Approach: How Descending Devices Can Save North Carolina's Reef Fish. Sea Grant partners have provided footage of a red snapper as it descends and repressurizes, as well as how-to videos for using descending devices.
In 2023, North Carolina Sea Grant will launch Cooking North Carolina Seafood, a new video series that will feature Ricky Moore, the James Beard Foundation's Best Chef in the Southeast. This issue's Mariner's Menu provides a sneak peek at the videos, as well as our Top Five Favorite Holiday Recipes.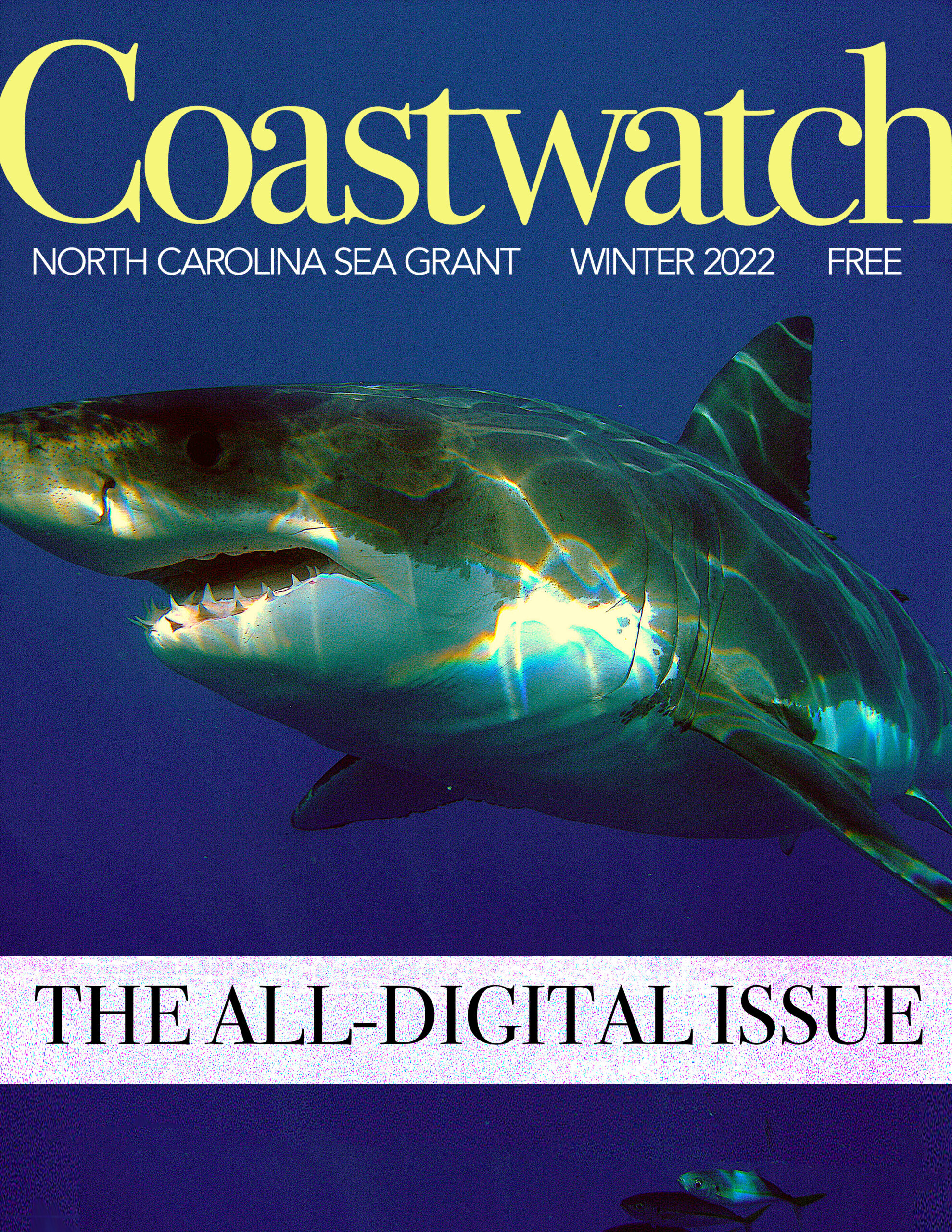 To sharks, even weak electrical impulses can be disorientating or physically uncomfortable, a trait that North Carolina Sea Grant's Sara Mirabilio is exploiting with her new research on a device designed to keep sharks off commercial fishing gear. PBS's Sci NC covered Mirabilio's work in a video that accompanies the story.
Mirabilio also provides an update on young great white sharks, which aren't swimming the waters scientists had assumed — but are patrolling the coastal Carolinas. "A Symphony of Sharks," NOAA's video ode to shark research, complements her story.
In The Sound of the Drum, North Carolina Sea Grant fisheries specialist Scott Baker reveals how the mating calls of fish predict the numbers of new offspring. Readers can listen to the audio that scientists recorded of silver perch, spotted sea trout, and red drum.
Baker and Mirabilio's award-winning Hook, Line & Science offers three videos that provide the latest science for anglers to answer three of the series' most popular questions in What Lionfish Eat, Big Seafood Lovers, and Incredible Shrinking Dead Fish.
Megan May's photo story and video in From Water to Air explores research on algal blooms as a possible respiratory threat. Smith follows Haley Plaas, former Sea Grant fellow and current advisory board member, as Plaas and community scientists study what happens when cyanobacteria goes airborne.
The Coastal Landscapes Initiative has released 12 award-winning videos about environmentally beneficial, cost efficient, and beautiful plants for home gardeners and professional landscapers. North Carolina Sea Grant's coastal resources and communities specialist Gloria Putnam and the CLI team selected a dozen species that are naturally adapted to thrive in the harsh conditions of the North Carolina coast.
Often, instructional materials incorrectly teach students the water cycle, but Christy Perrin, North Caroilina Sea Grant's sustainable waters and communities coordinator, has helped develop Keeping Water Renewable, an interactive lesson with videos. The NC Water Resources Research Institute, North Carolina Sea Grant, and the North Carolina Department of Environmental Quality worked with PBS NC to provide students with a thorough introduction to the water cycle and how to keep a resilient balance between human activities and natural systems.
Lauren D. Pharr, Ph.D. student at NC State's College of Natural Resources and an award-winning contributing editor for Coastwatch, studies the potential impacts of climate change on the federally endangered red-cockaded woodpecker. Her research recently appeared on Sci NC's "This Bird Still Needs Our Help," which accompanies this issue's Naturalist's Notebook.
The Winter issue also covers the return of a seminal Sea Grant event. Teachers, scientists, community experts, policymakers, business leaders, and many others recently came to Raleigh or watched the Coastal Conference online. They discussed urgent and emerging issues affecting our coast, forged new ties, and literally devoured new research for lunch. Videos, photos, and other resources are now available in Our Coast, Our Future: The 2022 North Carolina Coastal Conference.
Coastwatch will return in print (and online again) in March with the Spring 2023 issue. All print subscribers will receive the same number of issues they originally ordered.
###
Coastwatch online: ncCoastwatch.org
In print: go.ncsu.edu/Subscribe-Now.
New print subscriptions will begin with the Spring 2023 issue.
Permissions: Some content that appears in Coastwatch is available to republish. Email dmshaw@ncsu.edu. 
lead photo: Great White, public domain image via Phys.org.