Sea Level Rise and Climate Change
As the global climate heats up and sea levels rise, an epic battle takes shape in our coastal watersheds, where incremental changes have enormous impacts.
What does research reveal? What does climate change mean for our state? And how can we adapt and prepare for it?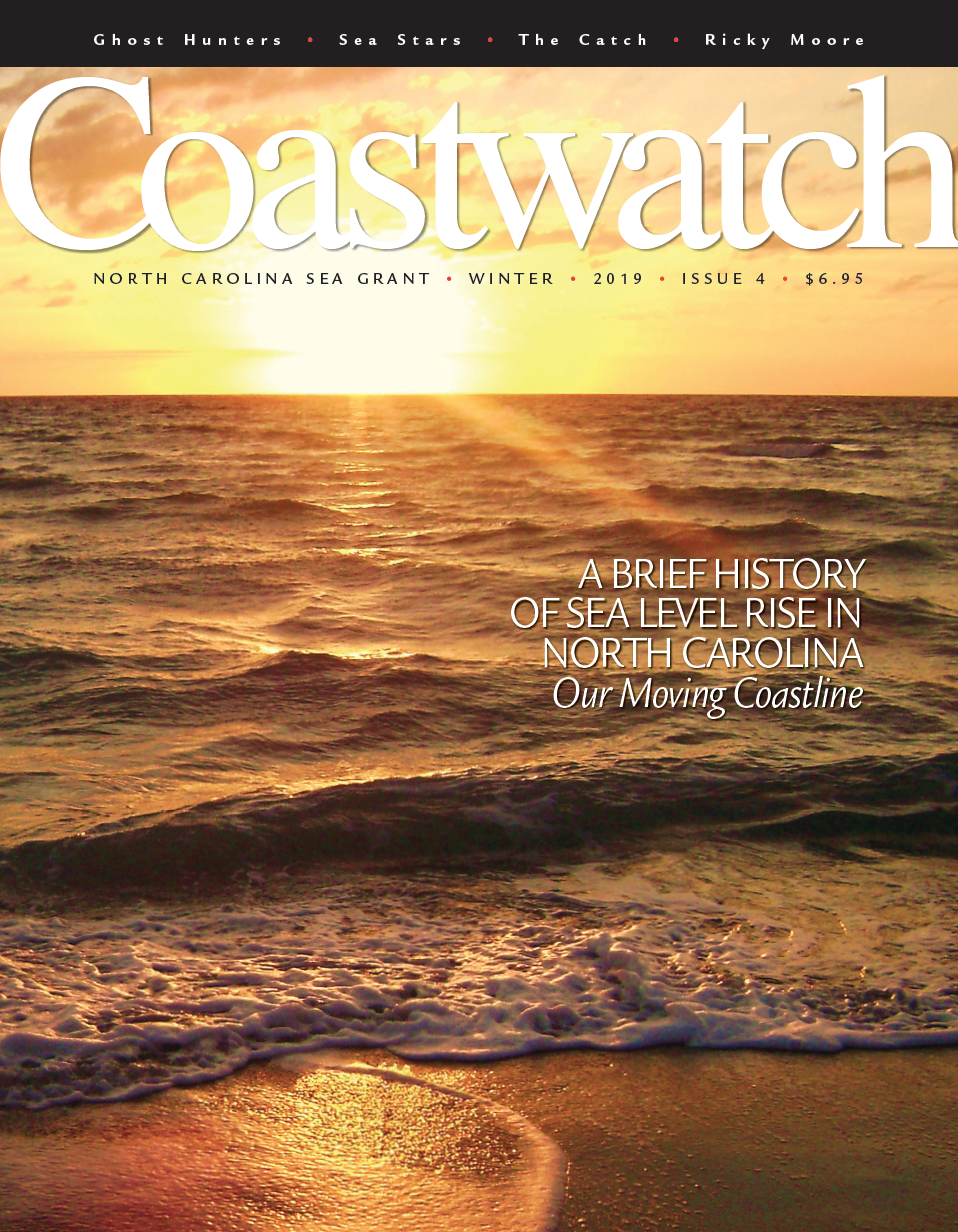 From Portsmouth to Aurora
Bouncing Forward: New Resilience Programs for Coastal North Carolina
in the Summer 2023 issue
East Coast sea levels are rising much faster than during the 20th century.
Climate Resilience
Natural Landscapes and Flood Mitigation in New Bern, NC
in the Summer 2023 issue
"Accelerated sea level rise will reshape flood hazards."
Vital Signs
Most of World's Salt Marshes Likely Will Be Underwater by 2100
in the Summer 2023 issue
Sea level rise will imperil over 90% of salt marshes worldwide.
CLIMATE & SOCIETY
Hot Air and Home Runs
in the Summer 2023 issue
Does global warming mean more big hits?
Vital Signs
The Hottest Ocean in Recorded History
in the Spring 2023 issue
NOAA and NASA track dramatic global changes.
Resilience and Redevelopment in Duffyfield:
Revisualizing the Future of an Underserved Neighborhood in New Bern, NC
in the Spring 2023 issue
After Hurricane Florence flooded an African American neighborhood with a long history of strength after adversity, a team of community leaders, researchers, and students has been working to restore housing and preserve community history.
Our Coast, Our Future:
The 2022 North Carolina Coastal Conference
videos, photos, resources
in the Winter 2022 issue
They came to Raleigh from across North Carolina, discussed urgent and emerging issues affecting our coast, forged new ties, and literally devoured new research for lunch — and you can watch it here.
Between a River and a Swamp:
All That Water Has to Go Somewhere
in the Winter 2022 issue
Project BRIDGE's documentary shows how a transdisciplinary team built resilience in Robeson County through a North Carolina Sea Grant-supported initiative.
Naturalist's Notebook
Saving the Red-Cockaded Woodpecker
with "This Bird Still Needs Our Help," a video from Sci NC
in the Winter 2022 issue
Currently, 63 out of 124 known red-cockaded woodpecker populations are vulnerable to hurricanes, with 56 of those populations having low or very low ability to withstand environmental or demographic changes.
Coastwatch Classroom
Keeping Water Renewable (an interactive lesson with videos)
in the Winter 2022 issue
Often, instructional materials incorrectly teach the water cycle, but this robust, blended lesson provides a thorough introduction to the water cycle and how to keep a resilient balance between human activities and natural systems.
Climate Resilience:
NC's State-of-the Art Warning System Strengthens Flood Planning
in the Autumn 2022 issue
NC's new flood-warning system includes 400 river and stream gauges.
Natural Solutions and Clean Water Future for the Cape Fear
in the Autumn 2022 issue
A new project looks at wooded buffers to reduce pollution.
Troubled Waters:
Flooding, Contaminants, and Heightened Risks
in the Autumn 2022 issue
Underserved communities disproportionately experience the adverse effects of flooding and poor water quality. Why is this?
Climate Change and the Northern Migration
in the Summer 2022 issue
Warming waters mean that more animals — including sea turtles, manatees, and sharks — will be on the move.
Climate Change and Resistance to Antibiotics:
Hotter Waters, Heavy Metals, and a Growing Public Health Concern
in the Summer 2022 issue
The significant associations of high temperature and salinity with antibiotic resistance is troubling, because climate change continues to exacerbate each of these factors.
The New Pioneers:
Planning for Wastewater Treatment During Climate Change
in the Summer 2022 issue
Communities along the coast are taking steps to ensure homeowners have functioning septic systems and other types of onsite wastewater treatment — as groundwater rises and storms intensify.
From Hurricane Hazel to the Morning Light:
Coastal Carolina Through a Shrimper's Eyes
in the Summer 2022 issue
After using scrap metal to build his own boat, Harry Bryant escaped waterspouts and a lightning strike and earned a living on the open water for 32 years.

Coastal Change in North Carolina:
An Interview with Spencer Rogers, Coastal Construction and Erosion Specialist
in the Spring 2022 issue
"We were one of the first states to actually require sea level to be studied."
Are Warming Seas affecting how Blue Crabs escape Predators?
in the Spring 2022 issue
Along much of the North Carolina coast, seagrasses are a critical habitat for juvenile blue crabs, providing a refuge from predators.
Wings of Change
The Impacts of a Warming Climate on Birds of North Carolina 
in the Spring 2022 issue
Extinction will threaten about two-thirds of America's bird species if temperatures rise by 5.4 F before the turn of the century.
Podcasting a Wide Net
in the Winter 2021 issue
Student Journalists Offer Coastal Voices on Climate Change to a Worldwide Audience
"Our imaginations are broader than we think."
Conserving a Culture
Land Development, Climate Change, and the Gullah/Geechee Nation
in the Winter 2021 issue
"We teach our children the same traditional ways to go out in the water, and the same traditional ways to live from the land: only when things are in season."
Five Years Later, Lessons Learned from Matthew
in the Winter 2021 issue
Torrential inland flooding from the 2016 hurricane was a wakeup call, sparking state investment in coordinated resilience efforts.
Hook, Line, & Science
Hurricane Noise, Live Weigh-Ins, and Wind Farms
in the Winter 2021 issue

Digging up a Stormy Past
in the Fall 2021 issue
Sediment samples hundreds of years old reveal how hurricanes and nor'easters affect the landward migration of salt marshes.

Above and Below
in the Summer 2021 issue
Two projects explore very different effects of weather on surface water and groundwater in coastal NC.
Mapping the Future
in the Summer 2021 issue
As seas rise and storms strengthen, new modeling will help communities assess heightened flood risks.
Against Wind and Water 
in the Summer 2021 issue
As climate change brings more intense hurricanes, and higher seas that threaten the shape and survival of coastal communities, homeowners still have options that can help to reduce the risk of property damage.
Skedaddling Sea Turtles
in the Summer 2021 issue
Not only do the turtles dive longer and change locations, but their new behaviors linger after the storms have passed. 
In the Wake of Storms
in the Spring 2021 issue
Even as our state's capacity for seafood processing declines, wholesalers and distributors have built a network that rapidly deploys initial aid to coastal communities after hurricanes.

Plan, Respond, Recover, Adapt
in the Winter 2020 issue
North Carolina Sea Grant's new coastal resilience specialist tells why resilience means much more than merely "bouncing back."
Sparrows and Rising Seas
in the Winter 2020 issue
Two coastal study sites now support hundreds of saltmarsh and seaside sparrows but might only provide habitat for 25 by 2060.
Is Climate Change Affecting Sea Turtle Hatchlings?
in the Autumn 2020 issue
Research shows that warming temperatures cause loggerheads to give birth mostly to female offspring.
Hatteras Island Students Tackle Coastal Change
in the Summer 2020 issue
Ninety-five percent of Hatteras Island students believe in climate change, and most plan to leave the island.
Inside the Greenhouse
in the Summer 2020 issue
North Carolina's Hottest Year on Record:
Will 2020 surpass last year's unprecedented heat with even higher temperatures in North Carolina?
The Road to Resilience
in the Summer 2020 issue
A large transportation study on flooding in eastern North Carolina suggests that thoughtful planning and targeted route improvements are key.
Capturing the Culprit: Carbon Sequestration and the Battle Against Climate Change
in the Spring 2020 issue
Mercury on the Rise
in the Spring 2020 issue
A Brief History of Sea Level Rise in North Carolina
in the Winter 2019 issue
Migrating Marshes Reveal Sea Level Rise and Human Activity
in the Autumn 2019 issue
Land Versus Sea
in the Summer 2019 issue
Rising Stars: New Fellows Fuel Scientific Discovery
in the Summer 2019 issue
Which Wetlands Will Survive?
in the Summer 2019 issue
From the Courthouse Steps to Climate Change: How Lumbee History Can Inform New Social and Environmental Dialogue
in the Spring 2019 issue
Hiding in Plain Sight
in the Spring 2019 issue
The Ghost Hunters
in the Winter 2019 issue
Adapting to Climate Change
in the Autumn 2018 issue
Advancing Community Collaborations
in the Summer 2018 issue
The Long View
in the Summer 2018 issue
RISING: Perspectives of Change on the North Carolina Coast
in the Summer 2018 issue
Research Responds to Key Challenges
in the Summer 2018 issue
Collaborative Research on the Outer Banks
in the Winter 2017 issue
Peek into Coastal North Carolina Research
in the Winter 2017 issue
Unraveling Mysteries of Ghost Forests
in the Holiday 2017 issue
Researchers Reach Into Communities
in the Summer 2016 issue
Climate Change Communication Challenges: Including Kids in Solutions
in the Holiday 2016 issue
Rewarding Innovation: Jones Awards
in the Spring 2015 issue
Coastal Science Serves North Carolina: Sea Grant Funds New Research Projects
in the Spring 2014 issue
NC Scholars Begin Appointments
in the Holiday 2014 issue
Plymouth Prepares for the Future: Flooding Threats in a Changing Climate
in the Spring 2012 issue
Awarding North Carolina Innovation
in the Autumn 2012 issue
Masonboro Island: Measuring Shifting Sands
in the Autumn 2011 issue
Changing Seas: Teachers Explore Ocean/Climate Change Connection
in the Autumn 2010 issue
Research Grows Future Scientists
in the Winter 2009 issue
Studying North Carolina's Coast
in the Autumn 2006 issue
Blowin' in the Wind: Solar Center Studies Potential Energy Source
in the Spring 2005 issue
Geologist Paints Vivid Picture of North Carolina's Dynamic Shorelines
in the High Season 2004 issue
Sea Grant in North Africa
in the Autumn 2004 issue
Researchers Find New Use For Ozone
in the Early Summer 2002 issue
Sea-Level Rise May Put Nature and Growth on Collision Course
in the High Season 2002 issue
Rhythms Of The Sea: Griffith Chronicles Coastal Change
in the Early Summer 2000 issue
lead photo: courtesy of USGS